Investment News, February-March 2020
Investor.ge provides a brief update on investments and changes in government policy that could impact the business environment. Information in this issue was taken from agenda.ge and other sources.
Q3 2019 employment rate up 4.6%
4.6% more people were employed in Georgia in Q3 of 2019 in comparison to the same period last year, Geostat reports. Georgian businesses employed 696,000 people in the third quarter of 2019, of whom 40.9% were women and 59.1% men. 41.5% those employed worked in small businesses, while 36.3% worked in large businesses and 22.2% in medium-sized businesses. Trade (26%), manufacturing (10%), transportation and storage (8%) and hospitality (6%) employed the most amount of people. 64% of salaried workers were located in Tbilisi, with 10% in Adjara, 7% in Kvemo Kartli, 6% in Imereti and 4% in Samegrelo-Zemo Svaneti.
Trans-Anatolian Pipeline [TANAP] officially launches
The Trans-Anatolian Pipeline connecting Azerbaijan's Shah Deniz gas field to Europe has officially begun operations. TANAP connects the South Caucasus Pipeline with the Trans Adriatic Pipeline, enabling Azerbaijani gas to reach Italy and Bulgaria and from there make its way onto other European markets. The construction of the $6.5 billion project began in March 2015, and is expected to deliver 16 bcm to Europe annually in the first stage, rising to 23 bcm by 2023 and to 31 bcm by 2026. Georgia will receive 5% of the transported gas as a share of the transit from Azerbaijan to Turkey, equivalent to about 300 million cubic meters of gas. This volume is projected to rise to 1.1 billion cubic meters as exports increase.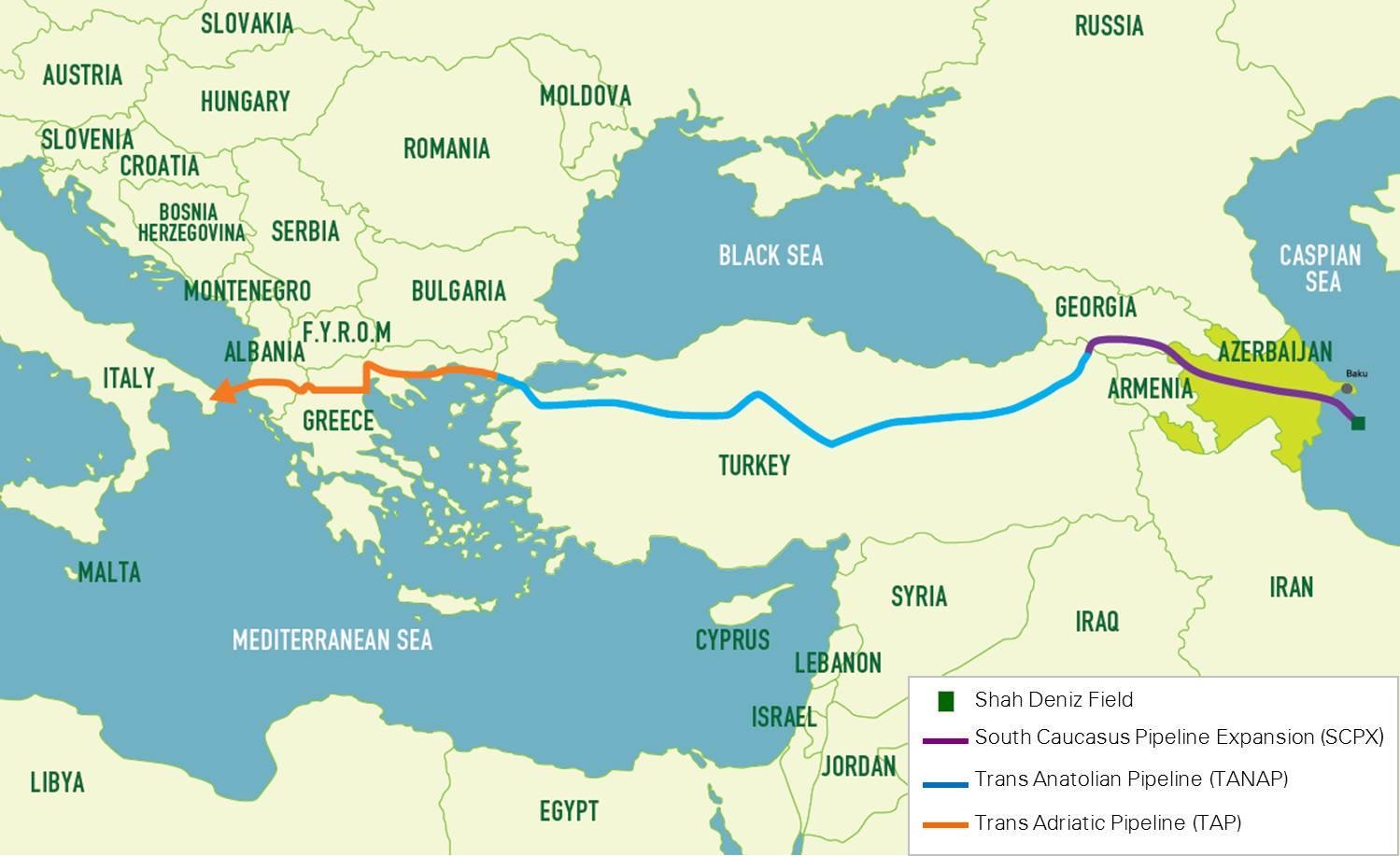 Georgia assumes International Olive Council presidency
Georgia become the 17th member of the International Olive Council and assumed a one-year presidency of the organization. Georgian Olive founder Giorgi Svanidze will serve as the chair during Georgia's presidency. Svanidze says there is potential for Georgia to become a "third hub of olives in Europe" in the near future.
Parliament approves 2020 budget at 14.43 billion GEL ($3.6 billion)
Georgia's state budget for 2020 has been finalized at 14.43 billion GEL ($5 billion) – an increase of 221 million GEL ($75.79 million). The largest expenses of the budget include funds for the Ministry of Internally Displaced Persons, Labor, Health, Social Affairs with 4.36 billion GEL ($1.5 billion), while the Ministry of Education will have 1.66 billion GEL ($575 million). The Ministry of Regional Development and Infrastructure has been given a budget of 2.07 billion GEL ($717 million). An additional 1 billion GEL ($346 million) will be spent on the repayment of largely foreign debts.
FDIS at $417.3 million in Q3 in 2019
Foreign direct investments came to $417.3 million in Q3 2019, making for a 13.7% increase compared to the same period last year. The top three investing countries were the United Kingdom (18.8%), the Netherlands (16.4%) and Turkey (10.3%), with major investments being made in the financial sector ($96 million), manufacturing ($49.3 million) and hospitality ($45.7 million), providing for 45.7% of all FDIs in Q3 2019.
Georgian wine generates record $220 million in sales in Jan-Nov 2019
Georgian wine producers sold 86 million bottles of wine abroad in January-November 2019, generating $220 million and making for a 20% increase in revenue compared to the same time period last year, the Ministry of Agriculture reported in early December.
Georgian exports hit historic high in 2019
Georgian exports hit a historic high in 2019, with exports increasing 12.4% in comparison to last year and reaching $3.77 billion. Further closing the trade deficit, imports were down 0.8 percent, amounting to $9.06 billion. Exports to the EU in particular were up 13% ($825 million), and made for 21.9 percent of all exports. The increase was partially thanks to jumps in the export of wines (+13.2%), still and mineral waters (+21.2%), citrus fruits (+44.4%), spices (+24.7%) and other fruits. Overall external trade amounted to $12.83 billion in 2019.
Georgia, Ukraine, Azerbaijan and Moldova agree to create unified economic zone, enhance free trade
Georgia, Ukraine, Azerbaijan and Moldova (GUAM) signed an agreement in mid-December to 'create a unified economic zone with the goal of reaching a free trade agreement.' The GUAM countries will focus on developing economic relations, transport, energy, free trade and tourism, in addition to other fields.
European Investment Bank loans 65 million euros to support Georgian SMEs
The European Investment Bank plans to allocate 65 million euros to support Georgian small and medium-size business. Per the EU4Business initiative, Bank of Georgia will receive 50 million euros, while Liberty Bank will receive 15 million euros. The EIB hopes to help stimulate the creation of 7,800 jobs through the loan.
Georgian economy grows 5.8% in Q3 2019
The Georgian economy posted 5.8 % growth in the third quarter of 2019, Geostat reports, with nominal GDP amounting to 13.4 billion GEL ($4.61 billion). Sectors that experienced particular growth were arts, entertainment and recreation (19.9%), information and communications (18.2%), construction (17.1%), while public administration and defense shrunk 4%, mining and quarrying were down 2.2% and financial and insurance activities also shrunk 2.2% .
Georgian pension fund takes in 563 million GEL in 2019
563.6 million GEL ($196.6 million) was accumulated in the pension fund in 2019, the Georgian Pension Agency reported. The pension fund includes close to one million citizens, and includes the participation of more than 61,000 organizations and employing organizations. The pension system is mandatory for legally employed people under the age of 40, while those over the age of 40 have been able to opt out.
Georgia builds 800 km of roads across country in 2019
Georgia constructed or rebuilt four times as many kilometers of roads in 2019 as it did in 2018, redoing 800 km worth of roads across the country, the country's Road Department reported in early December. 200 projects were completed, including the reconstruction of 52 bridges.
Visa says Georgia is leader in contactless payments
Visa announced in mid-January that Georgia takes first place globally for the percentage of contactless payments taking place in face-to-face transactions, saying 95% of non-cash payment transactions through are already being made by contactless cards or other devices.
Deal signed to reconstruct fourth section of Rikoti Pass
An agreement has been reached between the Roads Department of Georgia and Guizhou Highway Engineering Group and China National Technical Import and Export Corporation for the reconstruction of a section of the critically important Rikoti Pass which connects the east and west of Georgia.
The 14.7-kilometer stretch of the Shorapani-Argveta section of the highway will be reconstructed with funding provided by the Asian Development Bank, which has given a loan of 582 million GEL ($201 million USD) for the project.
The travel time across Georgia from the Red Bridge on the Georgia – Azerbaijan border through to Sarpi in the south-west of the country on the Turkish border will be reduced to 4/4.5 hours instead of the current eight.
Remittances up 14.2% in December 2019
Transfers from abroad to Georgia in December came out to $172.3 million – a 14.2% year-on-year increase.
More than one-third of all inbound money transfers came from countries of the European Union, from where remittances were up 37.8% at $65 million.
Russia accounted for 25% of all remittances ($43.8 million), while Italy accounted for 13.8%, Greece for 11%, the US for 9.6%, Israel for 8.4% and Turkey for 4.8%.
Money transfers out of Georgia amounted to $25.5 million, which was 17.7 % more than in December 2018.
Number of international visitors to Georgia up 7.8 percent in 2019
9.35 million people visited Georgia in 2019, making for a 7.8% increase in comparison to the year before. Georgian National Tourism Administration head Mariam Kvrivishvili noted that despite the Russian flight-ban, Georgia was able to keep its tourism numbers up.
Visits especially increased from countries where the GNTA organized marketing campaigns, such as Germany (38.1%), Poland (32%), France (28%), the UK (27.5%) and the Netherlands (26%).
Kutaisi electric car factory to release first vehicles in August 2020
Georgia's first electric car factory, located in the western city of Kutaisi, has announced it will release its first vehicles in August 2020.
The vehicles will be sold abroad in addition to being available on the local market.
The exact prices and models of the vehicles will be made public in spring 2020.
The factory will at first produce 5,000 cars annually, hoping to raise capacity to 40,000 over time.
The factory currently employs 300 people.
Municipal development fund carries out 250 projects in 2019
The Georgian Municipal Development Fund launched 250 projects in locations across Georgia in 2019 of which 70 have already been completed.
Backed by a budget 30% larger than what it had in 2018 of 367 million GEL ($125 million), the fund financed projects to improve tourism and water infrastructure, urban transport and to build sports complexes, educational institutions and homes for internally displaced persons.
Car components factory to be built in coastal Poti
Georgia's coastal city of Poti will soon welcome the automobile industry as well, as the construction of a car components factory in the city is planned to be completed as early as September 2020.
The factory is being built by SDT Georgia, which plans to export $5 million worth of goods in the first year to the EU, China, the US and Mexico, employing 60 people in the first stage and later increasing its capcity to 100 employees.