How COVID-19 has changed the approach to corporate social responsibility in Georgia
From the country's largest corporations to small business owners, Georgia's business community has stepped up to help the most vulnerable and is planning to continue their efforts.
Maia felt like she was losing it on April 4. Her cleaning gigs had come to a halt, as the families she worked with weren't comfortable with outsiders coming to the house. She wouldn't even have been able to get there any longer: public transportation had also come to a screeching stop. In addition to the immense stress of trying to deal with the coronavirus – the fear of catching it herself, trying to keep her two kids safe – she now also had to face the fact that her family wouldn't have any income.
Maia's story during COVID-19 is that of many. While the government of the country was swift in ensuring pay for those who had lost jobs, Maia couldn't apply for assistance – her job was informal. As the breadwinner of the family, not just Maia was affected by the lockdown measures imposed, her entire family was.
But then something happened. Kind individuals had scraped money together via a facebook group to pay her utilities bills. And then the Red Cross came with a bag full of groceries from Smart supermarkets.
"I still cry when I think about it," says Maia. "This crisis has really showed me the kindness of people."
Wissol group, of which Smart is part of, is one the major companies which upped their social responsibility programs during COVID-19, from delivering groceries to the socially vulnerable to providing psychological trainings for their staff to deal with the crisis, and currently is focussing their efforts on supporting small business owners working in tourism. Wissol had corporate social responsibility programs pre-COVID-19, but it was the crisis which changed the manner in which they carried them out.
Wissol's Head of the PR and CSR departments Rusudan Kviliashvili says they realized the importance of "united efforts to fight against a common enemy", adding they did everything in their effort to have a positive impact on those in need. And it has built new bridges, as Wissol is now actively working with government agencies to identify and support small regional tourism-focussed businesses who could use their help with marketing themselves through engaging storytelling techniques.
Other large corporations have also stepped up their game to help fight the pandemic.
Valeri Chekheria, CEO of Adjara Group, co-founded Fund 1anoba, through which 2,000 registered volunteers have supported vulnerable groups, including people with disabilities, single mothers and the elderly, and helped over 5,200 families across Georgia with food, medication and other basic needs.
Charity organization American Friends of Georgia has responded by contributing to the purchase and distribution of critically needed supplies including food, medicine, hygiene items, hand sanitizers, and protective gear to high risk populations. AFG began by donating facial masks and food to the children suffering from leukemia and cancer in the Oncology and Cancer Department of the Children's Central Hospital and to the nurses and elderly patients in the Hospice and Home Care Program.
Other major companies which set up specific projects during the pandemic include Bank of Georgia, which supported the government in its testing efforts, providing the Ministry of Health with 20.000 laboratory tests and other medical equipment. TBC Bank developed a new initiative, in which people could financially support businesses of their choice with a donation with only one click. Drink manufacturer Natakhtari set up online psychological consultations for those who needed it, helped people with their apartments' rent tax, and allocated resources necessary for distance learning.
Meanwhile, Efes – part of Natakhtari – supported bartenders who were unable to work during the pandemic. Water company Borjomi provided drinking water to 12 hospitals and various organizations throughout Georgia, as well as 100 GEL vouchers for food and other basic needs to more than 600 vulnerable families across Borjomi and Tbilisi.
Levan Baghdavadze, Vice President at Borjomi Georgia, said they are planning to continue supporting vulnerable people in coordination with the Business Ombudsman's Office. "Right now, we want to support 50 students from our training center by giving them vouchers worth 100 GEL from a supermarket to buy them basic necessities." But it wasn't only the large corporations which decided to take action. The government's stopcov fund, set up during the crisis to help support those in need, has to date raised 134M GEL. Companies which supported the fund range from the large corporations mentioned above, to companies such as the Caucasus Auto Import, furniture company Saba, and interior materials company Bauflexy. Besides donating to the funds, many also had their own specific COVID-19 focussed CSR programs, such as Element Construction, a construction company building both private homes and commercial spaces, which specifically helped those infected with the virus and their families.
While these companies usually have some reserves to help them through rougher times, such as the economic impact of the current pandemic, for small business owners this was different. However, this didn't stop them from trying to help those in even more need than they were.
In Senaki, the owners of a small privately-owned fruits and vegetables store, handed out free bread, cookies and salt. "The State of emergency made it hard for people to travel for their groceries," Saba Gogia, the store owner said, "so we decided to help them with the basics."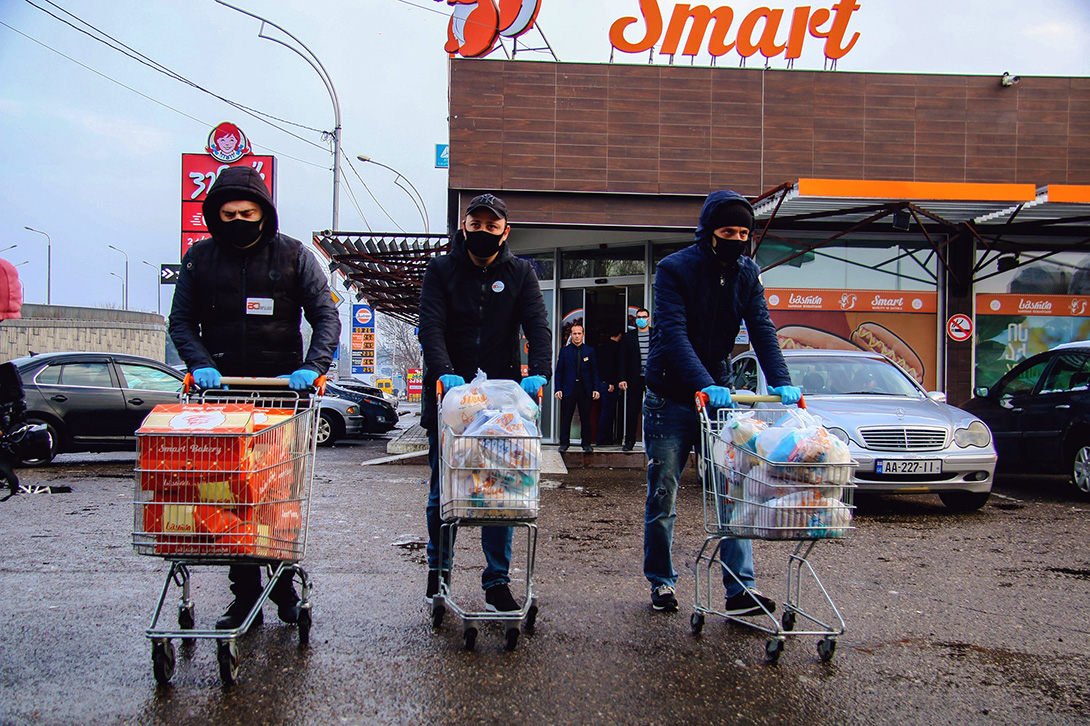 One of the hardest hit economies during the pandemic has probably been the tourism industry. But the owners of Rainers European restaurant, Hotel Kartli and ERKA Travel Tbilisi didn't see this as a reason not to help and support those who needed support even more than they did. Quite the contrary, they even founded a new non-profit to help vulnerable families and children living on the street. And they did so by crowdfunding from their customers.
"I'm proud that with the help of our sponsors we've been able not only to pay our staff, but also daily feed 60 families which we found through the Evangelical Lutheran Church," says Rainer Kaufmann, adding that the funds have also allowed them to expand their focus to small landowners in Gardabani and Rustavi to help them cultivate their lands.
For now, those companies who are able to, will likely continue supporting those who are suffering from the economic impact of the crisis. It is, however, to be seen what will happen when life returns back to "normal."
But Maia says that the temporary support she received was a tremendous help, not only in terms of materials, but also in terms of her and her family's psychological well-being. Since the restrictions have lifted, Maia has been able to go to work again, and won't need the kind support of others anymore. But it has inspired her to help out those around her more who are still in need.
"I've always supported my friends and family, but after what happened, I now buy bread and flour for those in my neighborhood who I know have no one else to rely on," she says. And that may be the biggest positive impact the pandemic has had: a little bit more empathy for those struggling to get by.
____________________________ ADVERTISEMENT ____________________________