Georgia: cradle of wine, khachapuri and – oil-eating bacteria?
The oil industry has long been dismissive of microorganisms' ability to remediate soil contaminated by petroleum hydrocarbons due to the technology's low success rate, but Georgian startup BioCure says it has perfected a process to stand the field on its head.
Georgia has already proven itself an innovator in microbiological solutions to modern problems: the country's bacteriophage industry alleges it can stave off a bacterial end of days with the help of bacteria-eating viruses. Another Georgia-grown startup with its roots in microbiology, BioCure, seeks to use bacteria to cure a different sort of blight–that of petroleum hydrocarbon environmental disasters.
And right on time: the oil spill management market is predicted to hit $140 – 175 billion by 2025, market estimates assert.
The fact that some bacteria have an appetite for oil is nothing new, and even came to the attention of the general public during the 2010 BP oil spill in the Gulf of Mexico, which had a happier ending than predicted due to oil-eating bacteria present in the water.
However, the uptake of the technology by the industry has been slow: the technique has a low success rate when deployed to gobble up oil spills in non-laboratory conditions.
But BioCure's approach is new, and the startup believes it can revolutionize the field.
A sticky problem, a trickier solution
A market with a pain point, a novel solution – why, then, hasn't BioCure become Georgia's first unicorn?
BioCure co-founder Temo Rukhaia says the complexity of employing bacteria to remediate petroleum hydrocarbon-afflicted terrains is enormous.
"Every site has its own bacteria biodome. The bacteria you introduce in one location to clean up a spill aren't guaranteed to work in another – in fact, it's very likely they will fail," Rukhaia says. The reason is that while all men are created equal, all oil-eating bacteria are not: they have to be adapted to a particular environment and not face destruction at the 'hands' of other competing bacteria on the food chain.
The approach currently used by competitors, Rukhaia points out, doesn't take heed of these issues, noting there are currently two main techniques in the field. One relies on bacteria that have worked well in the past and offers a one-size fits all approach, selling bacteria solutions 'straight from the shelves.'
The second method is one of biostimulation, which uses chemicals and minerals to stimulate the growth of oil-eating bacteria in the affected area. The success rate of these approaches comes to a halt at around 30%.
The BioCure approach is radically different and involves analyzing the soil sample, identifying the native bacteria populations and rapidly – within days! – isolating a strain of oil-eating bacteria that will thrive and clean up best.
To do this, BioCure relies on years of experience and expertise in identifying the bacteria that will yield the best results if applied in customized solutions – and all this without disturbing the local ecosystem's balance, which happens often with other methods.
Propagating bacteria, growing the business
BioCure will be tackling two issues as it seeks to propagate – itself. Rukhaia comments:
"The technology's reputation has suffered due to the use of one-size-fits-all methods. Industry leaders look at this kind of bioremediation with skepticism. And so we are working on spreading awareness that we have, in fact, the key to this problem, and can prove that our method works consistently and reliably better than our competitors'."
The second hurdle to overcome is that of how to commercialize the product abroad. Establishing service centers and providers in other countries is an expensive and time-consuming process. Instead, BioCure wants to focus on perfecting the technology and establishing partnerships abroad with service providers who will be licensed to apply BioCure products. To this end, the company is looking for partners that can help the business grow not just with investments, but that will help the firm continue to carry out pilot projects and demonstrate the efficacy of the product to the industry.
…and what about COVID-19?
BioCure didn't avoid the global COVID-19 slowdown either.
"Things are crawling along. We were working with one company to complete a project that would have taken a month, this was back in the beginning of the year. Now, things are just inching along," Rukhaia says.
BioCure had also planned a three-month period of travelling to attend industry-specific events and expand the firm's network.
"We needed this because our industry is very traditional when it comes to marketing, it's done through people – not digital marketing. For the general public, it might be a huge, even sexy, story that there is a technology that finds bacteria that eats oil," Rukhaia jokes.
"But for the industry, it's old news – they're used to it. That's why we need to meet with other businesses in the sector, and explain to them that we are offering something entirely different."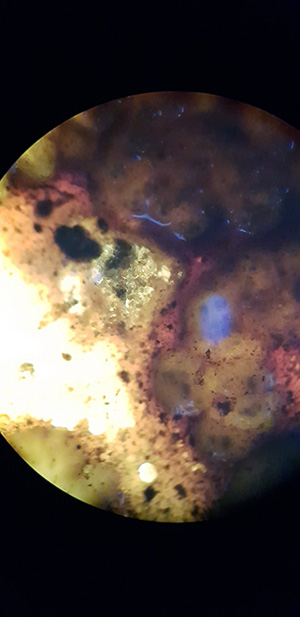 But Rukhaia is optimistic about both the near and short term: despite the turndown, the future is still teeming with possibilities and opportunities for BioCure. When asked how BioCure views the global trend of the turn towards renewable energies, he notes the team can only cheer the introduction of green technologies.
"But the fact is the world cannot wean itself off hydrocarbons in a day. They will be around for a long time. And with the introduction of green alternatives, we see the prices for hydrocarbon products coming down. This in turn will affect a number of aspects of its production and costs will be cut. That is to say – we still have plenty of work ahead of us."
But there's a life after oil, too, Rukhaia notes. The company already has the technology to leech out precious metals from residual soils from mining operations, and is also ahead of its competitors in this regard.
"The other current methods on the market can retrieve up to 70-80% of precious metals that are left over in residual piles from mining. But our technology, a two-step process that again uses a targeting and propagation mechanism, can retrieve up to 99% of residual metals."
And there are plenty of other applications out there into which BioCure may consider branching in the future, including degrading pesticides and enriching depleted soils – something Georgia's many abandoned acres of wine vineyards are already thirsting for…
BioCure's story goes back to 2004, when an oil well blew in Ninotsminda (Kakheti, Sagarejo municipality), contaminating 350 acres of land. The area in need of remediation was hilly and perched above a village: traditional, invasive methods could have caused a landslide and serious damage to the livelihoods of the people living below.
The company responsible, Canargo, announced a tender in search of the best solution. Researchers and scientists from what would become BioCure some 15 years later were chosen to deal with the problem after offering to use their microbiological approach to remediation. The soil was back to normal within 18 months.
In 2005, the Scientific Practical Center of Eco-Technologies Ltd. was formed, and a patent filed for the procedure. In the same year, the company got its second big break, and the opportunity to clean up a 9-kilometer segment of railway in Adjara allowed the company to prove itself yet again and to further develop the technology.
Finally in May 2019, BioCure was incorporated, bootstrapped itself off its initial successes, won a 100,000 GEL grant from Georgia's Innovation and Technology Agency (GITA) and began offering local commercial services.
____________________________ ADVERTISEMENT ____________________________