Georgia's transport sector gets back on the rails
Georgia's transport and logistics sector had been steadily picking up pace before the Covid-19 pandemic put the brakes on forward momentum. But as global markets recover from the initial shock, so too is the country's transport sector, a recent report released by TBC Capital shows.
The transportation and storage sector posted positive accelerating dynamics prior to the pandemic, with the sector's total contribution to Georgia's GDP having increased since 2016, reaching 6.6% of GDP in 2019, and dropping down to 5.9% in 2020.
"The pickup in the sector in 2016," TBC Capital's Senior Analyst Andro Tvaliashvili says, "was due to the rebound in external trade that began in 2016, after a downturn in 2011-2016. External trade is the main driver of transport and logistics, and that's why we see that rise."
By the sector's share in GDP, Georgia surpassed the EU average in 2019, but 'trailed' behind neighboring Azerbai-jan and Turkey, as well as countries in the extended region, such as Ukraine and Kazakhstan.
The sector's prominence in the country's GDP is attributable to its geographic location, but the TBC Capital report notes that its export and import policies are also to thank:
"Georgia stands apart from other regional and European countries for the ease with which items can be imported and exported…in the Doing Business 2020, among 190 countries only 31 performed better than Georgia in the time it takes to export the largest export product to its main purchaser."
This in turn is thanks to the trade benefits and privileges Georgia enjoys with a number of third countries, which is one of the main drivers of re-exports, constituting around one-third of Georgia's total exports.
Room for further growth remains. Interconnectability and infrastructure supporting contact with other markets remains a problem, TBC Capital states. As of 2018, Georgia stood in 119th place (out of 160 countries) in the World Bank's Logistics Performance Index (LPI), up by 11 spots since 2016. Compared to two years prior, Georgia made serious gains in customs clearance, infrastructure and logistics quality and competence, but took a hit in tracking and tracing.
Internally, the dynamics of the country's transportation and freight system remain fairly stable, with roads the preferred mode of transport for the majority of market players. In 2020, a total of 42.9 million tonnes of cargo was transported in Georgia domestically, a 1.4% Y-o-Y increase despite the pandemic and a second consecu-tive year of growth after a downward sloping trend since 2014.
Historically, road transportation has the largest share of total transported cargo in the country, averaging at around 72% in the 2014-2019 period, followed by railway and aviation standing at 28% and 0.06%, respectively, over the same period.
Tvaliashvili comments: "The predominance of the coun-try's roads in freight transport (from 64% in 2014 to 76% in 2018) has come at the expense of decreasing volumes of railway freight and decreased petroleum product volumes between 2011-2018. However, in 2019-2020, there was a slight reversal of this trend as volumes picked up, and road freight's share in total inland freight trans-portation reverted back to 74%."
As for external trade in USD terms, the transfer of goods is mostly allocated among sea and motor transport, with rail, air and other means being responsible for on average 20% between 2016-2020.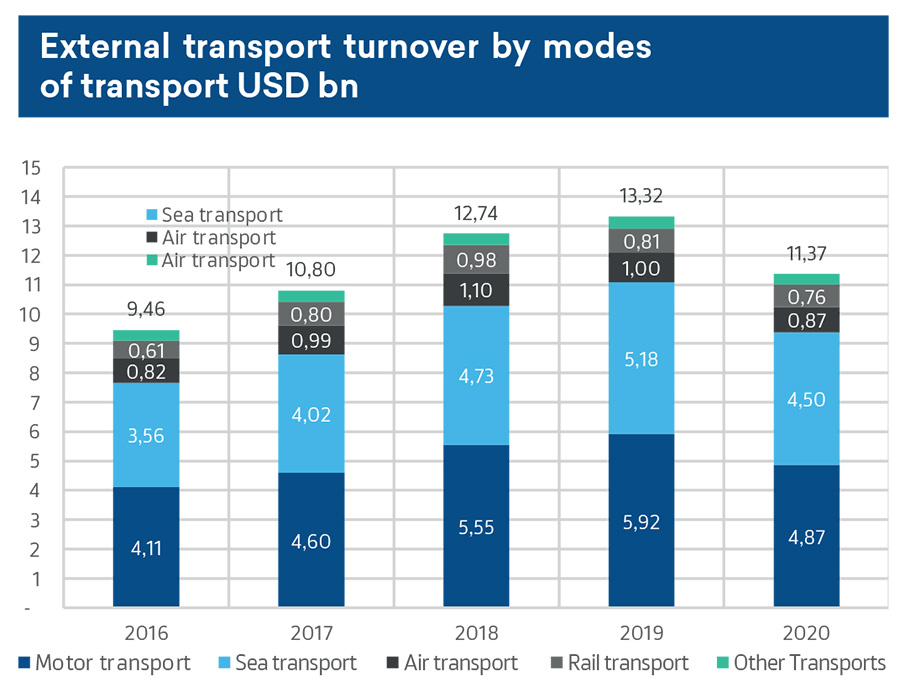 In 2019, Georgia's two operating ports handled more than 647,000 TEUs, a historic maximum and a 43% YoY increase. However, due to the pandemic and the wearing off of the one-time effect related to the suspension of car imports into Armenia because of its customs obligations as a member of the Russia-led Eurasian Economic Union, the amount of handled TEUs dropped 24% YoY in 2020.
Despite the major decrease in the amount of TEUs handled at the ports, the amount of vessels accepted sustained a less severe, -8% YoY decrease during the pandemic, with tankers and bulk carriers even posting growths of 16% and 25% YoY, respectively, in 2020.
Throughout the past six years, on average 82% of road transit cargo transported in Georgia originates from the same 10 countries, with immediate neighbors making up on average over 70%. In 2020, this share increased to 87%.
In terms of specific trade partners, in 2020 Georgia was used as a transit corridor the most by Armenia and the Russian Federation, totaling 1.8 million tons and 31% of total transit cargo throughput of the year.
The short term, TBC Capital writes, looks good for the sector: despite the difficulties caused by the pandemic, and the decrease in the sector's 2020 turnover is likely to rebound as international and domestic demand recovers.
As for the medium and long term, one of the most press-ing questions is how recent events in Karabakh will shape out for Georgia in terms of its continued position as a transport corridor. But TBC Capital's Tvaliashvili is optimistic, noting that "the numerous amount of invest-ments poured into the Baku-Tbilisi-Kars railways project, as well as the numerous pipelines that connect the coun-tries, provide a solid expectation that Georgia can remain a transit corridor for Azerbaijan and the greater Caspian Basin region in the medium to longer term."
See more at www.tbccapital.ge and subscribe to TBC Capital's newsletter for more information: https://tbccapital.ge/?subscribe