Small donations, big changes: USAID supports crowdfunding to boost civic initiatives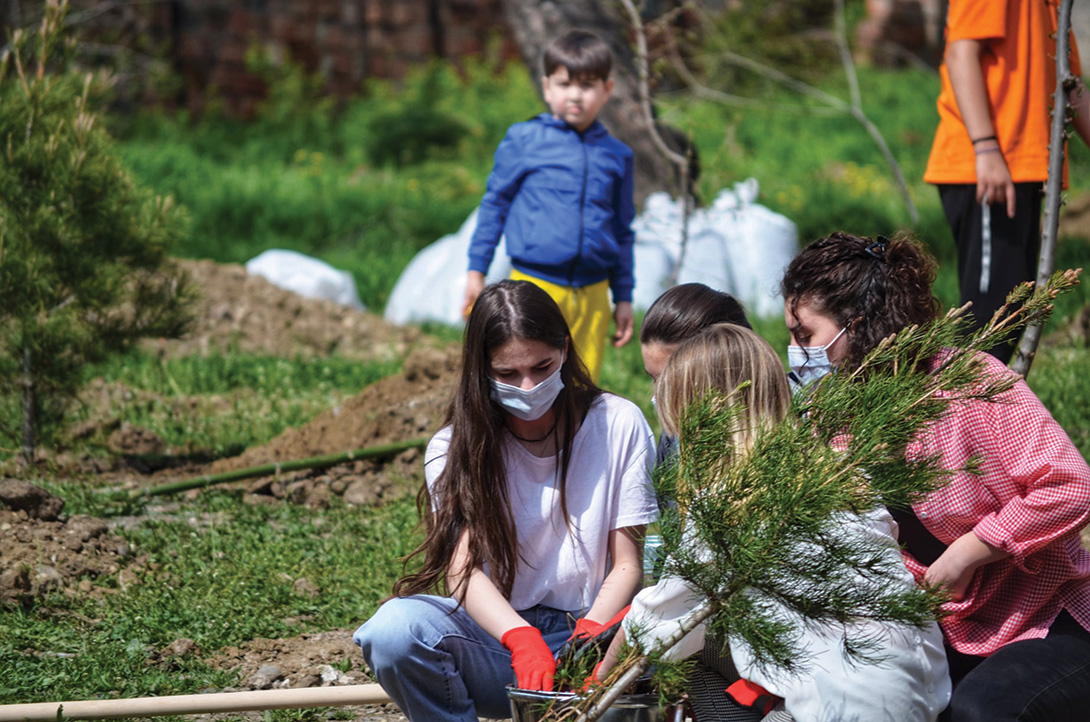 Want to organize a rock climbing club as an after school activity for orphaned children? Or build a playground for local kids? As part of its emphasis on spurring civic action in Georgia's communities, the United States Agency for International Development (USAID) is partnering with Orbeliani Meti to help local movements raise the money they need to make big changes. By matching 50% of the funds raised through private donations, USAID is putting resources into the projects that matter most to the Georgian people.
Rock climbing has been a crucial part of Lazare Komakhidze's life since childhood. Lazare grew up in Dzegvi, a small village in Mtskheta Municipality. He recalls his childhood as being relatively aimless. That is, until someone came from outside the village to establish a rock climbing club. Lazare joined the club and developed a hobby and a purpose for the first time.
Fast forward a few years, and Lazare is now a professional climber. He is also devoted to giving back to the community. The son of a social worker employed at the local orphanage, he grew up with a keen understanding of the lack of opportunity that many children face. "These children are forgotten by society," says Lazare. "They have nothing."
He set up a rock climbing club in the village of Nigozi, where most of the members are orphaned. Finding money to build a climbing wall was not easy. Then, he found out about Orbeliani Meti, an online crowdfunding platform where the money raised by local contributors is matched by international donors, including USAID.
"We felt that everybody should be able to take action, to do something good, whatever they feel is important for their community," says Ketevan Khachidze, program director at Orbeliani. The organization has operated since 2014, helping people get the funding they need to turn good ideas into positive action. Orbeliani has set out to "revolutionize" aid by changing how people obtain the resources to improve their communities. They launched their crowdfunding platform, Orbeliani Meti, in July 2020.
How USAID and Orbeliani support civic initiatives
The platform follows a simple model: anyone who wants to make their community thrive can submit an idea. Once they are listed on the platform, it's up to them to raise the funds they need.
USAID, through its flagship civil society capacity building program, is also doing its part, matching 50% of the funding raised by selected projects. USAID has already supported nearly 20 projects this way, with activities ranging from equipping a media center at a public school in Gori to planting trees to improve air quality in Rustavi.
The extra funding from international donor organizations has made a big difference, and not only in material terms. According to Khachidze, project initiators receive extra motivation when they know that donors like USAID are taking an interest in their initiatives.
Once a project is registered on the platform, Orbeliani staff provide the initiators with training on fundraising, outreach, and media relations. The goal is to help them attract private donations, while gaining the skills needed to implement successful civic projects in the future.
Crowdfunding provides a model for community engagement
High in the mountains of Adjara, in the village of Pachkha in Khulo Municipality, Asmat Bolkvadze and her team of volunteers are working tirelessly to support the local community. They have led a number of projects, including collecting donations to deliver supplies to people most at risk during the COVID-19 pandemic. Their most ambitious, and successful, project to date may have been raising funds for a new playground with the support of Orbeliani and USAID. Asmat is especially proud of this initiative not only because it resulted in a new playground, but because so many members of the community helped make it possible.
"It's been incredibly rewarding to see that everyone cares, and everyone who chipped in a little bit of money, also started really caring about the project," says Asmat. Not only did people donate money, but many more members of the community joined her civic movement. In Asmat's view, the project helped make the community stronger and more resilient.
Academic research has identified this as something that sets crowdfunding apart from other means of financing public projects: "An element differentiating crowdfunding from traditional finance is the possibility for building a relationship with a large number of people," finds a study by Melina Moleskisl and Ines Alegre. The authors mention that crowdfunding "can help to generate awareness of the cause, more favourable word of mouth advertising, and even trust."
When implemented effectively, these campaigns can also point the government toward issues that matter to local citizens. Because crowdfunding is by definition a "democratic" undertaking – citizens are putting their money toward the issues that matter to them – the public sector has an interest in supporting those same projects.
In the case of Lazare's rock climbing club, Georgia's Ministry of Sport and Youth Affairs pitched in roughly GEL 10,000 for the project after staff members learned about it through the media. "The additional funds were not only extremely important in speeding up the project, but it also felt as a confirmation that what we're doing is important," said Lazare.
____________________________ ADVERTISEMENT ____________________________