TBC Capital's monthly tourism watch: recovery on track despite seasonality effect
A look at tourism statistics in TBC Capital's latest report from the end of 2021 presents a mix of MoM declines and yearly highs. While recovery of visitor numbers and hotel occupancy rates slumped slightly in December compared to previous months, air travel and travel revenue reached their highest levels of recovery all year, leading analysts to conclude that the sector's recovery is on track despite the seasonal downturn.
Origin and number of visitor trips
The visitor trips of December registered a 226% YoY increase of visitors but remained 70% lower than 2019. Despite a decrease in December's visitor numbers relative to November, the rate of decline closely mimicked 2019 trends, pointing to seasonality and not major sectoral disruptions as the culprit.
The largest share of international Visitor trips in December came from Turkey (20%), a 5% increase from the same period in 2019. However, visitor numbers from most of Georgia's neighboring countries remained far below their pre-pandemic levels. From January to December 2021, visitor trips from Armenia amounted to only 14% of their 2019 level while Azerbaijan registered only 5% compared to two years prior.
The countries/region with the highest level of recovery in 2021 compared to 2019 were the Middle East (73%), Ukraine (70%), and Israel (49%).
Border crossings
In December, visitor trips via air travel reached their highest level of recovery in 2021, down only 16% compared to the same month in 2019. Travel by land borders and sea both remained significantly low, registering less than one-fifth of their levels two years prior. The high recovery of air travel and slow return of border crossings by land and sea is attributed to the shifting origins of visitors, with more travelers coming from non-neighboring countries in 2021 than in 2019.
Revenues from international travel
International Travel revenue continued its gradual return to pre-pandemic levels in December, down 42% compared to 2019. Overall revenue during 2021 was still 64% lower than in 2019, but consistent MoM growth throughout most of the year indicates a continuous recovery.
An examination of 2021 shows that the share of countries in revenues generated by international travelers looks markedly different than in 2019. While travel from Russia contributed the largest share of revenue in 2019 at 24%, Ukraine and the EU+UK held the top spots in 2021 at 13% and 14%, respectively. Saudi Arabia's share in revenue doubled compared to two years prior, and Israel's share of revenue outperformed it's 2019 level as well, amounting to 10% (previously 7%).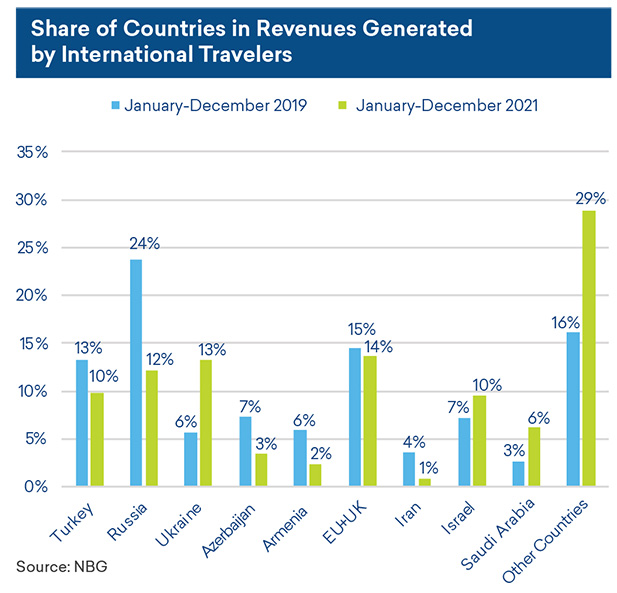 The hotel industry
Hotel occupancy rates at the end of 2021 seemed to follow the same broad seasonal downturn as they did before the pandemic, registering lower numbers compared to the summer season. However, December 2021 figures showed that on average, occupancy rates in large hotels (more than 80 rooms) were at 45%, a 16% increase compared to the same month in 2019. Average daily rates (ADR) in those large hotels also hit their peak for 2021 in December, registering only 5% lower than in 2019.
While hotel occupancy rates in the last month of 2021 registered 4% growth in Tbilisi compared to 2019 levels, most notable was the 41% occupancy rate of hotels in the Kakheti region, a 116% increase compared to two years prior.
TBC Capital's Head of Research Irina Kvakhadze notes that this increased occupancy in Kakhetian hotels could be attributed to higher levels of domestic tourism around the holiday season. Asked if she thinks this trend will continue into the coming year, Kvakhadze responded, "In 2022, we expect stronger outbound tourism; hence, domestic tourism may weaken compared to 2021. However, Kakheti is expected to continue enjoying high levels of occupancy as it has become one of the most developed touristic areas in Georgia, favored by not only local but also international tourists."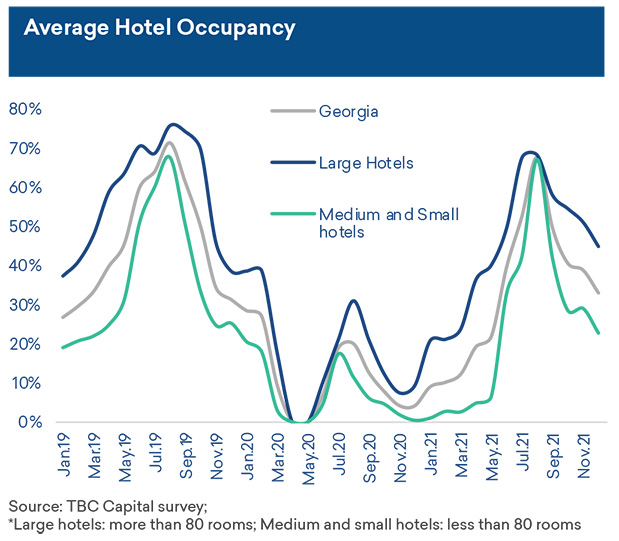 Looking into the winter months, TBC Capital predicts that the opening of ski resorts and winter holidays in January could boost both domestic and international tourism in the early part of 2022. However, analysts warn that low vaccination rates in the country combined with green passport regulations limiting access to winter resorts for unvaccinated travelers could dampen domestic tourism numbers. Furthermore, staff shortages caused by the highly contagious Omicron Covid-19 variant could provide a significant challenge for service providers as case numbers soar throughout the country.
See more at www.tbccapital.ge and subscribe to our news-letter for more information: https://tbccapital.ge/?subscribe