Galt and Taggart: outlook sunny for summer tourism season despite regional uncertainty
Lead: Georgia's peak tourist season is just getting under way, with warmer weather expected to beckon an increasing number of travelers and additional revenue for local businesses. However, the ongoing war in Ukraine and regional security concerns have left many wondering what this summer season may look like for the tourism industry.
G&T's latest report Tourism in Georgia: Monthly Market Watch April 2022 explores the latest figures and the war's expected impact on the industry in the months ahead.
Visitor numbers and tourism revenue
The month of April registered international arrivals of around 214,000 people, a figure that was up 160% YoY but stood at only 39% of its 2019 level. The largest share of visitors came from Turkey (16.8% of total visitors), followed by Russia (15.6% of total visitors) and Armenia (15% of total visitors).
While international arrival numbers continued their gradual recovery, tourism revenue rebounded at a notably faster rate, with data from Galt and Taggart's latest report revealing that March and April registered the highest levels of revenue recovery since the pandemic began, coming in at 71.3% and 70.6%, respectively, compared to the same months in 2019.
This mismatch in recovery between visitor numbers and revenue, while existent for some time, has become more pronounced since the outbreak of war in Ukraine, says G&T's Head of Research Eva Bochorishvili. "The general trend we see is that international arrivals are seeing slight growth, but we have seen a significant increase in tourism revenue since March."
This, she notes, is partly due to the way data is being collected. The Georgian National Tourism Administration (GNTA), which reports on visitor numbers, only counts those who have come and left the country in its tourism statistics. This has left the sudden influx of war-affected migrants (which G&T estimates is in the range of 80,000 – 120,000 people from Ukraine, Russia, and Belarus) omitted from this figure. However, data compiled by the NBG on tourism revenue is inclusive of spending by these migrants, which has led to a significant bump in revenue numbers.
Migrant impact on Airbnb demand
Another notable trend that can be gleaned from the March and April data is the impact that the war-related migration is having on the short-term rentals market. The Airbnb market in Tbilisi took a significant hit during the pandemic, but March data revealed a substantial recovery, with demand reaching 91% of March 2019 levels, a trend that Bochorisvhili says is unsurprising. "This increase in demand is most likely due to the fact that migrants coming to Georgia sought out short-term accommodation before finding long-term accommodation." April data revealed a drop in demand compared to the previous month (63% of its 2019 level), which could be attributed to the possibility that conflict-related migration is slowing as the war in Ukraine enters its third month. Also noteworthy was the reduced number of listings present on the platform in April, down 10.2% compared to March, a trend that G&T analysts attribute to the current high demand and appeal of inflated rental prices in the long-term rental market.
The hotel industry
As the sector prepares for its busiest season, G&T's report shows slight growth in the hotel industry, albeit significantly less than what the Airbnb market registered, a deviation that analysts again attribute to the migration situation and its minimal effect on hotel occupancy.
POS payments in medium and large hotels in Tbilisi recovered to 65.7% of 2019 levels in April, while hotels in Adjara experienced a more significant boost as seasonal demand increased, registering POS payments that outperformed their 2019 levels and grew 115.6% YoY.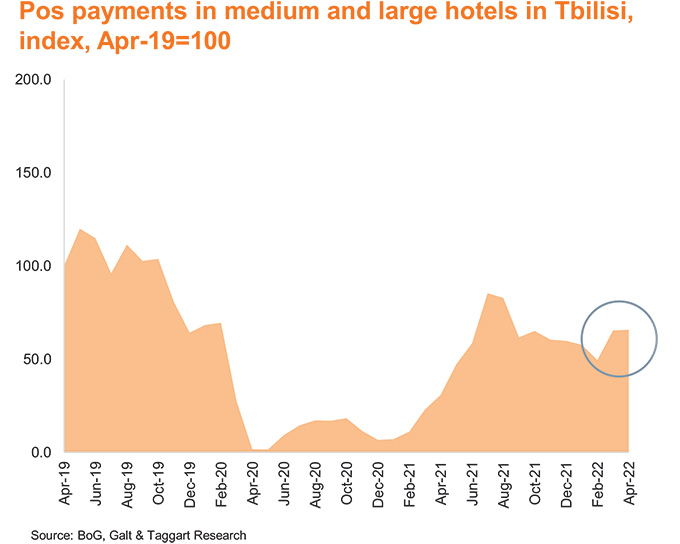 Looking ahead
Going into the summer months, G&T's head of research says sunnier days could be ahead for the industry. When asked if she sees regional security issues as having a significant impact on Georgia's peak tourist season, Bochorishvili expresses cautious optimism.
"We have heard reports of tourists, particularly from Europe, that have canceled their bookings in Georgia amid the regional uncertainty. However, we have seen Georgia's tourism market continue to diversify in recent years, with a significant amount of interest coming from the Middle East. We have reason to believe that even if one source market is affected, increased interest from others can help compensate," says Bochorishvili.
"We can also report that the migrant effect on tourism revenue has caused us to positively reassess our forecasts." While G&T's pre-war prediction for 2022 originally expected tourism revenue to recover to 85% of its 2019 level, the outbreak of war in February led analysts to downgrade their expectations to 75% recovery in a timely resolution scenario and 60% if the war is prolonged. "So much has changed," Bochorishvili notes, "that these scenarios are no longer relevant. The April data supports a recovery of 75% this year. However, revenue levels have continued to outperform expectations, so we cannot rule out the possibility that the migrant effect may push this figure back to its pre-war forecast of 85% recovery."