Galt & Taggart: May tourism numbers point to possible full recovery in 2022
While Tbilisi started its summer with milder temperatures than usual, the tourism sector saw no such tepidity, boasting accelerated revenue growth, visitor numbers, and hotel demand. G&T's latest report Tourism in Georgia: Monthly Market Watch May 2022 looks at the most recent tourism figures that point to a bumper summer season – and, potentially, year.
Visitor Numbers & Tourism Revenue
Pent-up travel demand and the easing of the last of Covid-related restrictions (both in Georgia and its source markets) have given the tourism sector a strong boost as it begins its busiest season. Total international visitor numbers in May came in at around 320,000, a more than 200% YoY increase and its highest level in two years. Tourist arrivals registered noticeably higher than in April (52.3% of 2019), coming in at 62.3% of their 2019 level.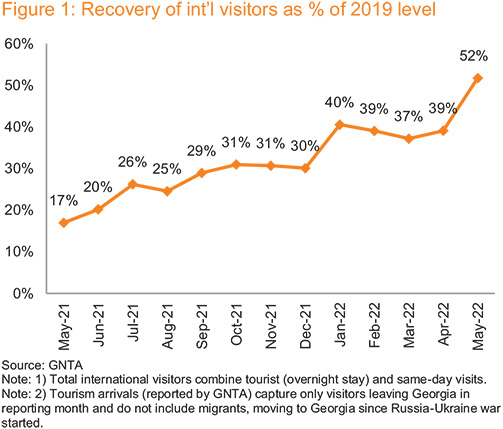 Notable among May's growth in traveler numbers was the increase in single day trips and the growing number of visitors hailing from Georgia's neighboring countries. With Turkey accounting for the largest portion of visitors in May (18.8% of total arrivals), Russia (16.1% of total arrivals), and Armenia (13.3% of total arrivals) followed in second and third place, respectively.
Galt and Taggart's Head of Research Eva Bochorishvili says that this is largely thanks to the easing of border restrictions. "While single day trips remain much lower than before the pandemic, their recovery in May at 28.6% of 2019 levels is a significant acceleration compared to the previous month. We largely attribute this to the easing of restrictions at the border. We also anticipate further easing of border restrictions with other neighboring countries, which we predict will bring another boost to visitor numbers."
And higher visitor numbers have certainly translated into higher revenue for the sector. In May, tourism revenue amounted to more than $250 million, 3.5 times more than the same month in 2021 and 96% of its 2019 level. But analysts see this acceleration in growth as attributable to more than just an increase in tourists. As G&T's Bochorishvili points out, this figure also includes spending by the estimated 80,000 to 120,000 war-affected migrants from Ukraine, Belarus, and Russia that are currently staying in Georgia.
AIRBNB & Hotel Market
The Airbnb market, which saw a significant spike in demand in March as a large influx of migrants traveled to Tbilisi, cooled off in April but seemed to heat up slightly in May. G&T's Bochorishvili says that Airbnb demand in May, which amounted to 63% of its 2019 level, is largely thanks to tourism recovery and not the migration effect: "We believe that the rate of migration from war-affected countries has decelerated, and many migrants that arrived earlier in the spring have now moved to long-term accommodation. Therefore, we estimate that the current level of demand is predominantly tourism related."
Hotels also registered higher revenue in May. POS payments in Tbilisi's medium and large hotels registered at 78.6% of their 2019 level, a figure that G&T analysts also estimate to be exempt from the migrant effect that has impacted general tourism revenue figures. Most notable was the acceleration of revenue recovery in Adjara hotels, which was up 178% YoY in May and even posted growth at 168% of 2019 levels.
Expectations for the Rest of 2022
G&T's latest tourism report notes that total arrivals in the first five months of 2022 amounted to around 1 million visitors, which is 42% of its 2019 figure. Total international tourism revenue stood at $841 million for 5M22, which is 75% compared to the same period in 2019.
Looking at the figures from May, G&T's Head of Research says that performance exceeded expectations, leading to optimism that revenue may recover to a higher level than was originally anticipated this year. "At the start of the year, we forecasted that tourism revenue would recover to 85% of its 2019 level in 2022," says Bochorishvili. "When the war in Ukraine began, uncertainty in the region led us to downgrade our expectations; but spending by migrants has given this figure a significant boost. Currently, we expect tourism revenue to reach 100% of its 2019 level in June, and we do not rule out the possibility that revenue levels could continue to fully recover throughout the rest of 2022."