What's behind the lari's recent fluctuations?
For those looking to travel, buy a big ticket item, or just stock up on their FX savings, watching the lari's fluctuating value against the dollar can sometimes feel akin to a game of roulette. For the lari is, as Galt &Taggart's Head of Research Eva Bochorishvili says, a "known volatile currency" that has seen long term devaluation against the dollar over the last decade.
But the lari's value in 2022 has seemed to many a bigger gamble than usual. From its seasonal strengthening around the new year to grim predictions and plummeting value at the onset of Russia's war against Ukraine, to unexpected levels of growth again in the late spring and summer, the market has certainly kept people on their toes. So, what has caused these major fluctuations? Investor.ge examines the GEL-USD market and what major factors are impacting its value.
Recent fluctuations
The inconstant value of the lari has become, for many in Georgia, a constant over the last decade. In addition to seasonality effects brought on by annual tourism peaks, on which Georgia's economy relies heavily, the last two years saw Covid-19 bring its value against the dollar to historic lows amid a long term trend of depreciation.
But the first eight months of 2022 have seen unprecedented volatility in the lari. From June through August, the lari continued to strengthen against the dollar, albeit with some minor fluctuations – an occurrence that is not uncommon for the peak tourism season that runs through the summer months. Since mid-May, the lari has maintained a value of 3 GEL / USD or stronger, reaching a top value of 2.72 GEL / USD in early August – the strongest it has been since May 2019.
This recent appreciation of the lari comes on the back of drastic depreciation between late February and early March, owing to the war in Ukraine. Between February 22 and March 3, the lari did a dive from 2.98 GEL / USD to a (near) record low of 3.38 GEL / USD. This was only slightly lower than the all-time low of the lari during the height of the Covid-19 pandemic, when it fell to 3.44 GEL / USD.
And while it may seem unsurprising that the declaration of war between two of Georgia's largest trade partners had a negative impact on its currency, what is surprising is the rate at which it has bounced back, performing significantly better than was predicted by most economists in the spring. In its initial reactions to the onset of war in late February, Galt & Taggart estimated that the war's impact on tourism, remittances, and trade could push the lari to a new low of 3.5 GEL / USD, an outcome that now seems unlikely given the record numbers posted in all of these areas over the last few months.
So what factors are currently having an impact on the value of the lari?
Tourism
One reason for the recent appreciation of the lari is the seasonality effect brought on by the summer tourism season. In August, revenue from tourism reached a record $523 million, up 163% y/y and 27% higher than in 2019. This followed strong numbers in July, which registered $476 million, a 20% increase on the revenues earned two years prior. In total, between January and August 2022, Georgian tourism revenue registered just over $2.1 billion, a more than 200% increase compared to the same period in 2021.
However, while tourism has certainly seen an impressive rebound since the pandemic, this figure does not represent just holiday-makers: much of the increase in tourism revenue is due to the increase in the number of migrants from Russia, Belarus, and Ukraine who moved to Tbilisi after Russia's invasion of Ukraine. As analysts have noted, revenue from those migrating and those visiting for tourism is not reported separately, meaning it is hard to distinguish how much of this revenue is from the rebound of tourism and how much is derived from the (most recently estimated by G&T) 100,000 – 120,000 migrants who have settled in Georgia for the medium term.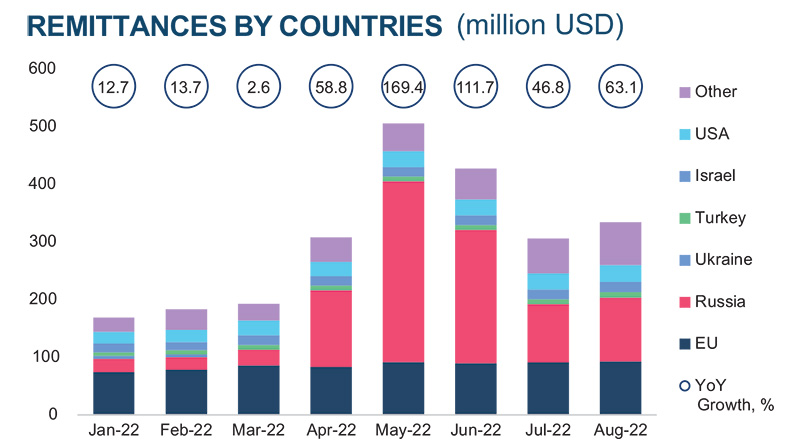 Exports
Increases in exports have driven demand for the lari and resulted in appreciation. Demand for exports from Georgia has been particularly high in recent months. In May 2022, Georgian monthly exports reached a record-high value of $504 million, according to the National Office of Statistics of Georgia, which is a 48% increase from the previous year. Between January and August 2022, Georgia exported $3.57 billion of locally produced goods, which was a 36.9% increase compared to 2021.
Booming commodity prices are also impacting the value of the lari, as Georgia's main exports tend to be commodities. According to Geostat, Georgia's largest export category was metal ores ($861 million, 20% of total exports), followed by iron and steel ($555 million).
Remittances and inflows
Georgia's economy has long relied on remittances, which represented 13.3% of the country's GDP value in 2020. Inflows of remittance also led to an appreciation of the local currency and have thus played a major role in the GEL's strong performance over the last few months. According to the National Bank of Georgia, the volume of remittances in August 2022 reached $334 million. This is a 63.1% increase compared to July 2021, with the largest chunk coming from the Russian Federation at just under $111 million (195% y/y increase).
However, understanding the increased inflows of remittances has been less than straightforward since the onset of Russia's war against Ukraine. As the NBG previously told Investor.ge, the large volume of money transfers from Russia could be related to a number of different factors. For one, some of the transfers could be from Georgians who had been living abroad and had chosen to return in light of the war. Some of the transfers could be a result of sanctions levied against financial institutions, which has forced small exporters to turn to fast money transfers through institutions like Western Union.
TBC Capital's chief economist, Otar Nadaraia, also believes some of these funds are from Russian migrants who are using them for everyday living expenses or tourists who cannot access their bank accounts abroad due to sanctions, an assertion supported by recent data published by the NBG. It shows that over 39,000 Russians have opened accounts at commercial banks in Georgia since the last week of February.
A portion of this capital inflow is being denominated in lari accounts, according to the NBG's Head of Macroeconomics Shalva Mkhatrishvili, which has had a positive impact on the currency's value. Adding to that is the country's current tight monetary policy, which offers higher returns on deposits for investors. The interest rate currently stands at 11% – its highest level in over ten years – although it should be noted that volatility of the lari like that seen in 2022 can be a major deterrent for investors to choose GEL deposits.
Expectations for the rest of 2022
By all accounts, the lari is expected to depreciate throughout the autumn and into the end of the year. For one, tourism has historically peaked in August, meaning less tourism revenue is expected in the coming months. Further to that, the lari will likely depreciate due to "a common belief in seasonality," according to TBC Capital's Nadaraia. Evidence for this can be seen in stronger GEL credit and foreign policy deposits: the markets expect the lari to depreciate by the end of the year, so they are already getting rid of it. This is because "market awareness is greater," according to Nadaraia, and "seasonality is already priced in."
Predictions also suggest that the central bank may loosen its monetary policy in the next quarter – albeit slowly, they have cautioned. TBC Capital predicts that by December 2022, inflation is likely to decrease to 7.4% and that it may return to the target level of 3% in the second quarter of 2023.
G&T's Bochorishvili believes that businesses are confident because of economic growth and the current strength of the lari. Yet, she says, uncertainty threatens the current level of business confidence; the war in Ukraine has big implications for Georgia "as it has created a lot of economic uncertainty." EBRD President Odile Reanult-Basso recently echoed this sentiment during a visit to Georgia, noting that "higher-than-expected economic growth in Georgia is due to short-term factors – the high level of remittances from Russia and higher-than-expected income from tourism."
Inflation – and the uncertainty it creates – has impacted many economies, and Georgia is no exception. However, Georgia does have an economic advantage relative to many other European countries because of its energy supply. Much of the price inflation in mainland Europe is being driven by increases in energy costs: yet due to its cheaper access to Azeri gas, Georgia does not face the same threat.
All signs lead to a depreciated lari by year's end – but given the recent higher-than-expected growth, it is hard to say exactly by how much. Yet expectations for the future of the economy remain buoyant: the Georgian economy has weathered many storms. All signs point towards strong growth in the next financial quarters.