PMCG tourism report shows strong recovery, growing domestic market
While tourism was the industry hit hardest by the effects of the pandemic both in Georgia and abroad, it also offered one of the greatest comeback stories of 2022, with the latest figures showing visitor numbers on the rise and tourism revenue already surpassing 2019 levels. PMCG's latest tourism report looks at the sectors' recovery, shifting trends, and expectations for the year to come.
International tourists and revenue
The latest figures from October 2022 indicate that Georgia's tourism market has continued its impressive recovery throughout the beginning of autumn, following an expected seasonal slowdown. International tourist numbers in October registered 82.6% higher compared to the same month in 2021, down only 21.5% compared to 2019 levels. The top countries of origin for international visits were Russia (109,158 visits), Turkey (81,033 visits), and Armenia (72,877 visits).
Tourism revenue in September was up 18% compared to 2019 levels, and in October it came to $337 million, up 137% compared to the same month in 2021 and 26% greater than pre-pandemic 2019 level. PMCG Researcher Nika Kapanadze says that the impressive revenue growth of 2022 can be attributed to several factors.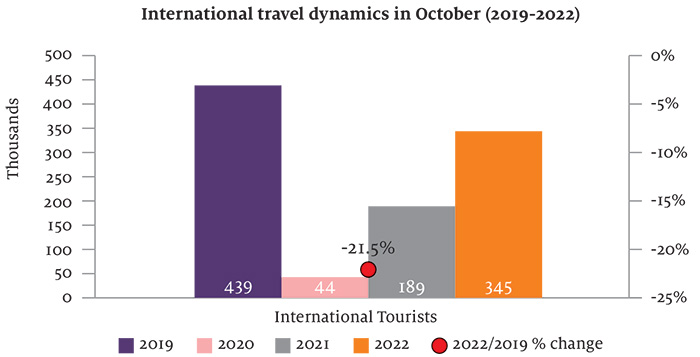 "On the one hand, there are the migrants that have come from Russia, Belarus, and Ukraine because of the war. Some of their spending is counted in this tourism revenue calculation. However," he notes, "the effect of this factor should not be overestimated."
"Despite some assessments that there could be more than 120,000 temporary migrants here, we've adjusted our methodology to get a more accurate picture, and we now put that figure at around 58,000 for the period starting in January and September."
Growing tourism revenue can also be attributed to shifting source markets and changing tourism habits. "We saw a large spike of tourists coming from Saudi Arabia, Kazakhstan, and Israel in particular, this year," Kapanadze notes. "The Gulf countries, as well as the U.S. and Israel, are the highest value tourists to Georgia in terms of daily spending. Having more visitors from some of those source markets has boosted revenue."
"The average length of stay for visitors has also doubled compared to 2019," he adds. "This is a global trend we have witnessed that comes from the associated hassle of restrictions around traveling during the pandemic. This, combined with the other factors, means that visitors are also spending more per stay."
Adventure tourism
Adventure tourism, which includes visits to national parks, natural monuments, protected areas, and other natural attractions of the country, represents an important value chain for the tourism sector in Georgia.
It offers the potential to extend the average stay of tourists, create high value jobs, and stimulate investment – particularly in the regional markets outside of Tbilisi.
Visits to natural attractions were upward trending at an average yearly rate of 24% prior to the pandemic in 2020.
Historically, this type of tourism has been largely associated with international visitors. But as the pandemic shuttered airports in 2020 and left many scrambling to find alternative holiday destinations, many Georgians decided to spend their vacations closer to home. With the increased numbers of domestic tourism came higher numbers of domestic visitors to Georgia's protected areas and national parks, a trend that has continued throughout 2022.
In Q2 of 2022, which represents the peak of the summer tourism season, domestic visits to natural attractions in Georgia surpassed their pre-pandemic levels by 54%, which Kapanadze sees as a promising sign.
"The pandemic transformed domestic tourism, which is reflected by the growing number of domestic tourists visiting national parks. We expected this in 2021 as some travel restrictions remained in place. But the continued high levels reflected in the summer of 2022 indicate that this trend is here to stay."
Hotel price index
The average prices for 3-star, 4-star, and 5-star hotels were down 7.6% MoM in October, largely due to the seasonality effect that is typical in Georgia after its peak tourism season concludes. Average hotel prices were up 13.2%, however, compared to the same month one year prior. PMCG's Kapanadze says this increase is predominantly related to inflation and increased demand compared to 2021. "On average, in 2022, we have seen stable YoY price increases of around 10% to 15% every month. There is, of course, greater demand as tourism recovery continues. But this increase is also partly due to inflation. Inflation is generally around 10-13% now, but it is much higher for food, which is one of the primary outputs of the hotels. This is reflected in their pricing."
Looking ahead
As Georgia heads into the new year and the start of ski season, Kapanadze says he is optimistic about the sector's outlook. "The data from October indicated that the tourism sector is continuing its strong recovery. With international tourism up and domestic tourism still performing well, we predict this ski season will be a strong one."
As for 2023, he says a great deal hinges on what will happen concerning the war in Ukraine. "Developments in Ukraine and Russia will have a major effect on not just the tourism sector but many areas of Georgia's economy. Despite this uncertainty, key source markets like the Gulf states seem to be unaffected by the current geopolitical stability, so we remain confident that the recovery will continue," notes Kapanadze. "Globally, tourism is expected to return to pre-pandemic levels in 2024, but we are fairly confident that Georgia will reach a full recovery in 2023. Seem to be unaffected by the current geopolitical instability."