Georgian startup Elven Technologies wins ticket to SelectUSA Investment Summit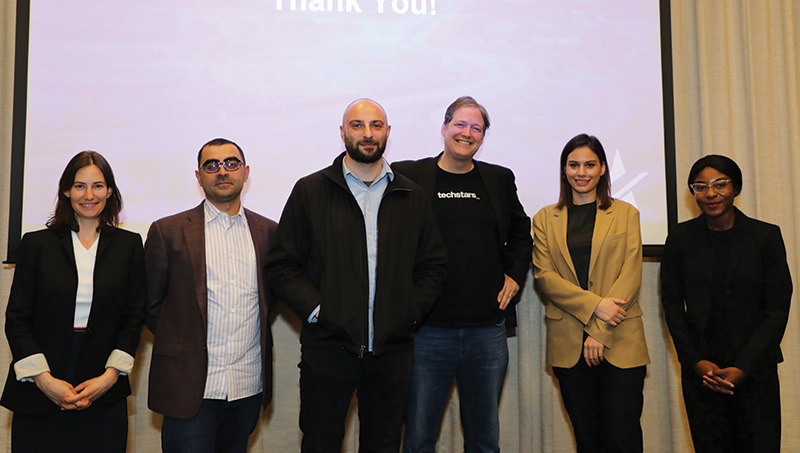 Seven Georgian startups pitched to a panel of four judges in late March to win a $1,000 ticket, courtesy of the U.S. Department of Commerce, to the international SelectUSA Investment Summit in Maryland in May. The winner, Elven Technologies, is a Georgian company which develops advanced materials for space exploration and fire containment.
The SelectUSA Investment Summit is the top event in the United States for foreign direct investment promotion, connecting investors, companies, economic development organizations, and industry experts to investment opportunities in the United States.
As part of the award package, TBC Bank sponsored the flight and travel expenses for the winning team, while Silk Hospitality provided the venue and refreshments for the event, which sought to connect early-stage and startup companies with the opportunity for advancement in the U.S. market.
Making up the panel of judges were Ako Akhalaia (CMO of AmCham member Silk Hospitality and publisher of event partner Marketer.ge), Colin Donohue (AmCham Board Member and Startup Connect & Startup Grind Tbilisi Director) Jean Foster (Economic Unit Chief, U.S. Embassy) and Sopo Ckhoidze (Co-founder of startup Pulsar AI, which successfully exited to a U.S. acquirer). The event was presented by AmCham member Andrew Thornhill.
AmCham board member Colin Donohue shared his motivation for AmCham's involvement: "The U.S. is the global leader in technology and venture investing. At AmCham, we want to deepen partnerships that help Georgian companies grow bigger faster. SelectUSA brings together many serious players who can support the growth of the competition winner."
To be eligible to pitch, startups had to be founded after January 2013, have up to $10 million in revenue, less than 40 total employees, and have plans to expand to the U.S. within the next two to three years.
The seven Georgian startups included:
Biterium AI, a startup that aims to detect cardiovascular disease at an early stage, monitor health and lifestyle choices, and develop recommendations for users.
Elven Technologies, which builds flameproof battery enclosures for EVs and energy storage to protect people and property from lithium-ion battery fires.
Re:Educate, an educational startup that offers courses for the world's most in-demand digital professions.
Translive, a digital platform for logistics that brings together hundreds of carriers and cargo owners in one space.
TasteIt, a social media platform that connects people based on their shared food preferences.
Mycoins, a cryptocurrency exchange platform
Costy, an architecture and construction procurement network.
Elven Technologies emerged as the winner of the competition. Company founder Vamekh Kherkheulidze spoke to Investor.ge about his team's journey to the U.S. and the summit event:
"It was a great experience for the team, for some of whom it was their first time visiting the United States. The event brought together a number of state governments looking to attract businesses to their state. We met with a lot of companies to discuss potential partnerships, from which two significant opportunities materialized – one to use our technology to protect electricity poles and another to have our tech used by an EV battery recycling company. We also used the opportunity to take with us a very large number of samples to the U.S., and to continue ongoing pilot projects there. We're really thankful for all the support we've received on this trip."