TBC Capital: Growth of FMCG market expected to stabilize following record pandemic gains
The fast-moving consumer goods (FMCG) market has represented a steadily growing segment of the Georgian economy in recent years. However, pandemic-related consumer behavior changes and inflation led the sector to record significant revenue gains in 2020 and 2021.
TBC Capital's latest report, FMCG Market Overview 2022, provides insights on pandemic-related trends, supply chain disruptions, and sectoral expectations for the coming years.
OVERVIEW OF THE FMCG MARKET IN GEORGIA
The FMCG market in Georgia registered steady growth in the years leading up to the pandemic, with a 3-year CAGR of 6% from 2016 to 2019. Growth in the sector has historically been attributed to mild increases in expenditures by the general population and restaurants combined with rapidly increasing tourist expenditures.
However, with the pandemic came a shift in both consumer behavior and the FMCG market's revenue breakdown. When the Covid-19 pandemic hit and travel restrictions ensued, tourist expenditures in the FMCG market shrank significantly, declining 84% YoY in 2020 and only recovering to 43% of 2019 levels in 2021.
Despite this massive decrease in tourist expenditures, increased spending by the general population in Georgia led the FMCG market to unprecedented growth during the pandemic, register-ing revenue increases of 26% and 22% YoY in 2020 and 2021, respectively. While average monthly household expenditures continued to rise, so did the share of FMCG expenditures, which grew to 45.3 % of average monthly expenditures in 2021.
TBC Capital's Head of Research Irina Kvakhadze attributes this growth to two primary factors: "The pandemic created a situation where a lot of goods and services were initially restrict-ed, leading FMCG purchases to constitute a greater share of household spending. The second driving force of this shift was inflation, which drove up the cost of goods and led many house-holds to allocate more of their spending for primary goods."
In the coming years, TBC Capital predicts that growth in the market will continue at a steadier pace. As consumer behaviors normalize and tourist expenditures slowly recover, analysts expect more stabilized revenue growth rates of 14% and 11% in 2022 and 2023, respectively.
SUPPLY CHAIN DISRUPTIONS
Inflationary issues continue to dominate headlines worldwide, and Georgia's FMCG market has seen no exception. In fact, Kvakhadze says that the country's FMCG market is expected to see even greater inflationary pressure in the coming months due to the war in Ukraine. "The most notable trend in Georgia's FMCG market right now is the pressure on prices. The pandemic had already created supply chain disruptions and caused signifi-cant price hikes, but Georgia's dependency on the Russian, Ukrainian, and Belarusian markets for goods like wheat, sunflow-er oil, and corn will require market substitutions. Our sectoral sources say the full price effect of these substitutions will not be fully felt until the endofthisyear."
While analysts at TBC Capital warn that the rapid increase of prices may eventually have a negative effect on consumption, they also see a silver lining for the market. "While this need for substitution from other markets will have a negative short-term effect on prices, it will also push market players to diversify their source markets, which will make the FMCG sector more resilient in the long-term," notes Kvakhadze.
GEORGIA'S ORGANIZED FMCG MARKET
The FMCG market in Georgia continues to be dominated by unorganized actors; however, market penetration by organized retailers has showed impressive growth in recent years, particu-larly in Tbilisi. From 2016 to 2019, organized FMCG players increased their market share in Georgia from 17% to 30%, and although this trend stagnated slightly at the onset of the pandemic (market share dipped to 29% in 2020), a 2% increase in 2021 indicated that the organized market's growth was back on track.
Analysts at TBC predict that this trend will continue, with organized retailers expected to make up to 40% of the FMCG market by 2024.
Tbilisi remains the most penetrated market by organized FMCG actors (61%), while the rest of the Georgian market remains largely untapped (organized market share ranges from 5 – 20% in the regions).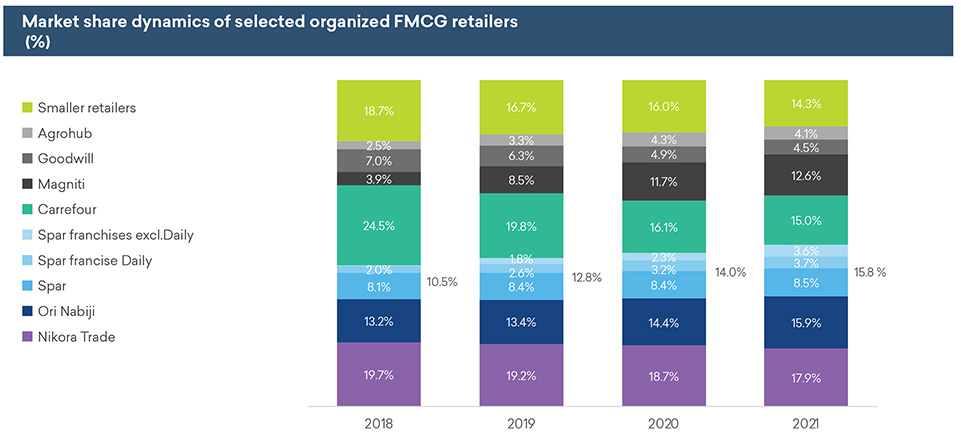 CONSUMER BEHAVIOR DYNAMICS
Data collected from selected FMCG retailers in Georgia indicates that consumer behavior shifted at the onset of the pandemic, with Q2 2020 showing a massive drop in the average number of visitors per day at retailers and a significant increase in the average value or each transaction. While these behaviors are associated with pandemic-related closures and social avoidance tactics, data from the remainder of 2020 and 2021 shows that these behaviors have gradually reverted to their pre-pandemic norms.

Worldwide, the pandemic encouraged the rapid development of retail store digitalization, with global e-commerce sales jumping 27% YoY in 2020. In Georgia, however, the growth of e-commerce and digitalization in the FMCG market continues to lag. Data collected from transactions made through TBC Bank channels shows that only .15% of grocery purchases made in 2021 occurred online.
Despite these low figures, Kvakhadze remains optimistic about the future of e-commerce in Georgia. In addition to almost 80% of major FMCG retailers being present on third party delivery platforms, she also notes that "we do see positive, yet slow, growth in the share of e-commerce transactions."