Phubbing for Ukraine: Georgian e-commerce startup keeps social mission at its core
Phubber has operated with a central mission to promote sustainability since its inception in early 2019, says co-founder Giorgi Chugosvhili. But as the company continues to expand, so do the causes it advocates for. Investor.ge recently sat down with Chugoshvili to talk about Phubber's mission, startup success, and its recent campaign in support of Ukraine.
The concept, akin to similar models already popular in the U.S. and EU, was to create an online marketplace that would allow those living in Georgia to buy and sell secondhand apparel and accessories. By doing so, says co-founder Giorgi Chugoshvili, users would be able to promote circular fashion and decrease their negative environmental impact.
"Around 100 billion new apparel items are created each year, and the fashion industry is the number two polluter in the world after the oil industry," he tells Investor.ge. "It takes up to 10,000 liters of water alone just to produce a single pair of jeans. Here at Phubber, we are trying to tackle this sustainability problem in two ways: one is by promoting upcycling, or encouraging people to resell their used apparel and accessories. The second is by providing a marketplace for small and medium-sized Georgian designers, who create more quality apparel and discourage fast fashion."
And although he says it has been difficult to change stigmas in Georgia around secondhand clothes, the company's ability to connect with Gen Z customers who care about sustainability has pushed it to see major success in its little more than three years in business. When the application launched in March of 2019, Chugoshvili says it registered 10,000 users in the first ten days.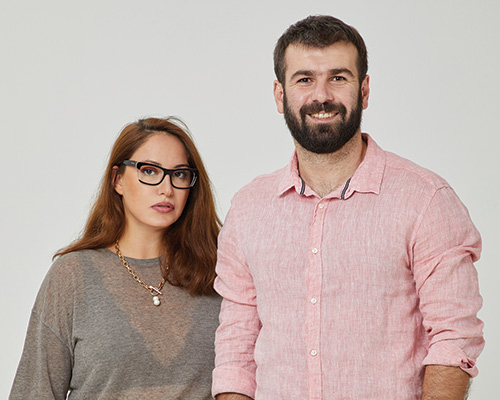 This, he says, was partly due to his corporate connections from working in finance, and partly due to his co-founder, Anano Dolaberidze, who has more than ten years of experience in the fashion industry and previously served as the organizer of Tbilisi Fashion Week. Dolaberidze was able to leverage her social media presence as a well-known local influencer to get the word out about the new app. However, he notes, despite the nice boost that came from their local notoriety, "it was really the great customer experience we created that allowed us to grow as fast as we did."
"Phubber has been designed to create an enjoyable user experience," says Chugoshvili, "starting from the minute you begin phubbing [scroll through products on the app]. Our app is really an integration of a marketplace and social media," he adds. "Each seller has their own page where they can post their products for sale. Buyers can scroll through their feed and see merchandise, like posts, and even follow sellers."
Once the buyer chooses a product, Phubber takes care of the rest. In addition to an integrated payment system, a Phubber employee picks up the merchandise from the seller and transports it to the company's production facility. There, the item undergoes quality control and authentication [a major selling point for those splurging on a secondhand designer good], is wrapped in signature Phubber packaging, and delivered to the buyer. More impressive, considering the company services the entirety of Georgia, is the turnaround time. "On average, we deliver 70% of our packages on the same or next day," he says.
Startup success
And with service and sustainability at the forefront of the company's priorities, it has continued to find favor with customers – and investors. "In September 2019, we won a 100,000 GEL grant from GITA [Georgia's Innovation and Technology Agency] – which really gave our company a second life and allowed us to make improvements to the app," Chugoshvili explains.
In early 2020, the company was chosen by USAID as one of three Georgian startups that were sent to Silicon Valley. There, the team met founding engineer of WhatsApp Eugene Fooksman, who decided to invest in Phubber.
Just one month after bringing Fookman in, the pandemic struck. While many businesses were crippled by the restrictions that ensued, Phubber's online presence amid the mass push towards e-commerce resulted in quite the opposite, allowing it to post revenue growth of 470% in 2020. That, in turn, brought more investors on board in 2021 [as well as a 650,000 GEL matching grant from GITA] as Phubber again doubled its sales.
At this point, Chugosvhili says, expansion into the Ukrainian market became the next play for Phubber. The remainder of 2021 was devoted to shifting the app from a "one language, one currency" system to a "multi-language, multi-currency" system, with the intent to first create a market for Ukrainians to buy and sell in- then, down the line, to merge the Georgian and Ukrainian markets and allow them to buy and sell from one another.
Phubbing for Ukraine
However, as the team prepared for its official Ukraine launch in the last week of February, tragedy struck, and news emerged that Russia had invaded Ukraine. "Those first few weeks were hard for us," says Chugoshvili. "Our first priority was our team in Ukraine and making sure that they were safe. After that, we had to figure out what to do next."
Chugoshvili says that it was actually the team in Ukraine that approached him and Dolaberidze about using the platform to help out those in Ukraine. "They came to us and said, 'we already have everything in place, and there are lot of people in Ukraine who could use income right now,'" he recalls. From there, the 4UA campaign was born. After adjusting the app to allow buyers and sellers in Ukraine and Georgia to interact, Phubber launched its for 4UA campaign in partnership with Visa at the end of May.
The campaign, which is made up of three phases (two of which have already been launched), aims to bring much needed assistance to those dealing with the repercussions of the war.
The first phase, Buy Ukrainian, focused on bringing income to Ukrainian designers. "We already had about 10,000 registered users in Ukraine from our soft launch before the war. We reached out to some of the Ukrainian designers and offered for them to sell their products to our Georgian customer base." Through this, he says, "we have been able to connect Ukrainian supply with Georgian demand, leading to tens of thousands of dollars in revenue for Ukrainian designers."
The second phase, Buy From Ukrainian, launched at the end of June, and allows any user in Ukraine to sell their secondhand apparel to buyers in Georgia, expanding the base of people who will be able to benefit from a source of income while coping with the hardships brought on by the war.
The final phase, Buy For Ukrainian, will provide a charity component to the app where users in Ukraine can create 'need lists' that users in Georgia can buy for them. Through these initiatives, Chugoshvili says they have been able to support their staff in Ukraine and allowed the Georgian public to show solidarity with their Ukrainian counterparts. "We still have staff in Ukraine that are providing the same quality control and verification in our Ukrainian production center. And thanks to our partner, Visa, the shipping cost from Ukraine to Georgia is free for our customers."
What's next for Phubber?
While the company continues to work on rolling out the third stage of their 4UA campaign, it also has no plans to let up on its expansion ambitions. In September, Phubber plans to begin operating in three more countries: Kazakhstan, Uzbekistan, and Azerbaijan. But even as the company expands, Chugoshvili says its social missions will remain at its core.
"Women's empowerment is another important part of the Phubber mission," he says. "With a predominantly women-led executive team and 90% of our user base being women, one of the things we are most proud of is the economic independence for women that our platform promotes. With Phubber, any woman who is able to go to the local thrift store and buy some secondhand clothes, suddenly has a platform where she can sell items and make her own money."
This, he notes, is particularly important in the platform's new Central Asian markets. "Economic independence for women in this part of the world is particularly low. We aim to create an accessible platform where you don't need a higher education or degree to start a business."