TBC Capital: Tbilisi's residential real estate market stabilizes MoM, record high rental prices remain
Georgia's influx of war-affected migrants in the first half of 2022 had a major impact on residential real estate in Tbilisi. But has the market adapted to this new reality? TBC Capital's latest report Tbilisi Residential Real Estate: May 2022 breaks down the latest figures.
Transactions and prices
More than 100 days into the Russian invasion of Ukraine, the war's economic impact continues to reverberate throughout the region and the world. In Georgia, one of the first sectors to feel the implications of the conflict was the real estate market, which witnessed an upswing in demand as an inflow of migrants from Ukraine, Belarus, and Russia traveled to Tbilisi. This sudden increase in demand had an immediate impact on rental prices, with TBC Capital's previous real estate reports revealing that the average rental price increased 20.1% MoM in March and an additional 21.5% MoM in April.
May figures show that rental prices have remained at an all-time high but have not continued their MoM growth, potentially signaling that the market is now experiencing the peak of the migrant effect. Despite this, YoY growth of average rental prices in May reached a whopping 101.4%, indicating that prospective renters are now facing prices double that of last year.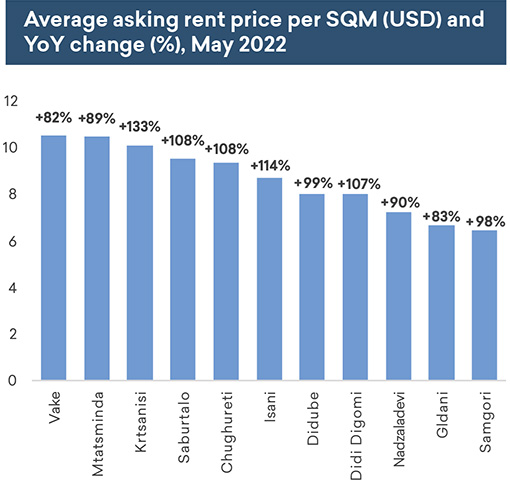 The average asking price for residential sales witnessed a subtle MoM increase of 1.1% in May but recorded noticeably higher figures than 2021 (+20.4% YoY). The number of transactions also remained unchanged relative to April but showed a YoY increase of 55.4%, which analysts at TBC Capital attribute to declared public holidays and mobility restrictions in May 2021 that limited the number of property registrations.
Properties by condition
Data shows that approximately 800 new residential properties were sold in May, a figure that is 2.5 times higher than the same month one year prior. And while old properties also posted significant growth in transaction numbers (+40% YoY), new properties continue to gain in the total share of transactions.
Breakdown by district
In May 2022, all of Tbilisi's districts recorded substantial YoY growth in the number of sales transactions, which analysts again attribute to disruptions in the market in the same month of 2021. Highest among them were Chughureti (+244%), Krtsanisi (+96%), and Didi Dighomi (+92%).
The average rental yield in May was 11.4%, up 4.6 pp com-pared to one year prior. The districts posting the highest rental yields were Isani (14.2%), Didi Dighomi (13.9%), and Samgori (12.9%), with some of these yields notably exceeding the long-term GEL deposit rate.
Every district in Tbilisi also recorded YoY increases in sales prices in May, with the highest growth recorded in Vake (+35%), Gldani (+28%), and Chughureti (+25%).
Flat-sharing market
Data from Airbnb in May showed a flat-sharing rental market that largely mimicked the performance of April in terms of revenue, indicating that migration and tourism recovery are still having a positive impact. However, analysts at TBC Capital estimate that migration related to the war slowed in May, meaning improvements in the market could be more largely attributed to a post-pan-demic tourism recovery and the revival of the Airbnb market.
In May, the number of active listings on Airbnb increased markedly in MoM terms but remained 25% below the same period in 2019. Despite the gradual recovery of listing numbers, ADR saw a nice bump relative to May 2019 (+13%), as did occupancy rates, which were up 17% compared to pre-pandemic levels.
Overall, the market's performance in May remained largely in line with the predictions laid out by TBC Capi-tal at the onset of the war (apart from rental prices), which predicted that the average sales price (USD) in Tbilisi will increase by between 10.6% and 11.3% in 2022, depending on how the situation in Ukraine continues to impact Georgia's economy.