The changing landscape of Georgian agriculture
Diversity is growing in Georgian agriculture. Not just the variety of crops, which now span from climate-hardy ancient grains to modern variants of indigenous fruits such as blueberries, olives and asparagus and new ones like avocados – but in technologies and scale. Though challenged by climate change, pest plagues, and the post-Soviet bequest that left the industry dominated by hundreds of thousands of tiny farms, Georgia is innovating.
Currently lacking the driver of foreign investment, Georgia is also exploring ways agriculture could be encouraged while complying with the land ownership restrictions. One ambitious example in the main greens-producing area of Imereti with the backing of the Ministry of Environmental Protection and Agriculture (MEPA), is the Imereti Agro Zone, with its project for the Imereti Greenhouse Cluster.
Run by a Georgian-Dutch consortium, the project includes a fully serviced complex (gas, water, electricity, drainage, permits to build, etc), extending over several hundred hectares: open to all, local and foreign, to set up their greenhouses on a turn-key basis.
The financial management and ownership of the assets by a special investment vehicle (SIV), and the physical structure of the project – predominantly greenhouses – allows in foreign as well as domestic investors to lease or purchase plots of varying sizes and sophistication. The zone is also intended to provide a "single window" of government services, from customs to the food safety agency.
The government is in a hurry to boost production, especially now with Russia waging war against Ukraine. Having spent 2 billion GEL over the last eight years, said then-Minister Levan Davitashvili last July, around 7 billion GEL will be invested over the next nine years, much of it to promote greenhouse growth.
"As a result, about 500,000 hectares of land will be covered with annual and perennial crops," the goal being to "replace $300-400 million of imports and generate around $2 billion of net exports".
While the jury is out on which approach is best to invigorate Georgian agricultural production and revenues, all are agreed on one thing – the solution is success in the high margin end of the export market. But partnerships and clusters rather than "big agriculture" are being adopted as the way to go.
A rise in agro-exports from $0.5 billion to $1.1 billion over the last ten years shows that, albeit at a rather slow pace, some progress is being made. However, as Nino Zambakhidze, chairwoman of the Georgian Farmers Association and a board member of hospitality group and new mega-farmer Adjara Group says, there are "many more challenges still in the industry", pointing to Georgia's 70% food import dependency.
Visible proof of progress, however, is the growing number of hectares of greens and berries under plastic greenhouse canopies – protection against the new global-warming climate extremes, with drip-feed nutrition and irrigation – the number of new almond orchards, repaired irrigation channels and new tractors. Less visible is the new testing to deliver rising quality standards, an exportable chilled supply chain, stations with EU-friendly packaging and increasing organic production and chemical-lite systems.
Mega scale farms of the sort advocated by USAID and others to materially increase output and cut production costs are still very few and far between outside of vineyards. Two rare examples are in Kakheti, where Aric Group has 2,600 hectares for pistachios and the Adjara Group Holdings LLC's Udabno agriculture subsidiary has a farm of 12,000 hectares, with a large section for almonds. But one major foreign group, Italian confectioner Ferrero, has sold out of its hundreds of hectares of hazelnut orchards, it is said, for $18 million. And Aric's owner Afzal Ravari, after several very hard years, would only comment: "You can say I am surviving!"
While local farmers have been adding to their territory in response to international demand for their blueberries, nuts or wine, few beyond wine companies own hundreds of acres. More typical are operations that have been expanding their land as Herbia, which has 25 hectares of greenhouses for production of greens. In the booming blueberry market there is FCO (160 hectares), Blue Valley (20 hectares) and Agritouch (100 hectares). Walnut producers of size include Agro Line (200 hectares). But new well-funded owners have been companies moving into production from industry supply and food processing bases; growth in Georgian processed food production is winning financial support.
However, in Georgian agriculture, frustrated by the paucity of major investors, a block on foreign money and limited availability of fertile land and funding, development of scale is largely being achieved in other ways – through partnerships for quality control, packaging, distribution and export among the small and medium-sized farmers.
Driven by the IFIs, the EU and USAID programs and government spending, education and role models are being deployed to modernize farming methods and technology at small and medium-sides farms, raising productivity and quality standards, enabling farmers to reach new European and Middle Eastern markets. New networks for co-operation are being encouraged and supported. Grants, insurance and pressure to improve access to banking and other financing mediums are easing the way.
"There are increasing tendencies for large companies and/or corporations to become interested in agriculture, especially in view of the extensive support both from the government and donor agencies. These companies often have diversified activities parallel to farming, and they are also large input suppliers – supplying seeds, pesticides, machinery etc," says Nino Zambakhidze.
From her vantage point as head of an organisation that represents 4,000-plus farmers of all sizes, she does not see "big" agriculture as the answer for Georgia – not now, at least. "However, whatever large portion of agriculture might be industrialized, in the near future I would not envisage primary production of agriculture exceeding 10% of the country's GDP; the food processing could be another 10%. In total, the agri-food industry could be up to 20% of the country's GDP, no more. Therefore, I do not think switching to 'big' agriculture would help increase agriculture's economic contribution."
She added: "In addition, given the climate change concerns and the negative effect industrial agriculture could have on the environment, focusing on sustainable and organic practices with application of new technologies as opposed to intense agricultural operations seems a better solution for Georgia at this point".
A farmer and businesswoman herself with English and French agriculture qualifications, she sees "high value" as the way Georgia needs to go: "Producing high quality products that are key to ensuring food security, especially in this turbulent world, increasing production of critical minimum wherever possible, as well as producing high-value products, including GI (products of specific geographic origin) , organic, other high-value products to be marketed to EU and like high-end markets is the potential for Georgia."
"There is room for both extensive and intensive agriculture depending on the area and potential; location, terrain, etc. Service cooperatives could have a potential for development (cooperatives for input provision and output processing (value-added activities), storage and marketing."
Key will be export success for the small farmers, in her view, and Georgia already has helpful trade agreements in place with the EU, China and on-going negotiations with the UAE. "However, there is a way to go for Georgian agricultural products to secure a place at the European markets and not only there. Increased productivity, product quality and the competitiveness of SMEs is the key to success – niche products such as snails, almonds, blueberries and organic products." The GFA has been helping develop new apps to help farmers, such as Agronavti – an online platform to help with planning and management to maximize profits based on market trends – and a specialised web-booking portal for agritourism, Agrogate.
She lists what she sees as the most crucial obstacles for Georgia's agriculture:
Lack of quality knowledge and modern technology;
Access to financial capital;
Absence/scarce of infrastructure: irrigation and drainage systems, cold storages, mechanization.
Seemingly a model of what the right kind of "big agriculture" could bring to Georgia, Adjara Group's Udabno, an organic mixed livestock and horticultural operation in which it has invested GEL 150 million so far. Originally planning to ensure supplies of sustainable local produce for its Rooms Hotels and its restaurants, the group has grown in ambition since it began farming six years ago.
As described by its director Goderdzi Metreveli "the main goal of the company is to develop agriculture and agritourism in Georgia, as well as to generally popularize the field of agriculture. Our company intends to produce natural and healthy Georgian products for both local and international markets. Udabno's aim is also to develop almond growing and production in Georgia, to engage more young people in the industry and establish our name on the global market." The operation aims to be self-sufficient and sustainable.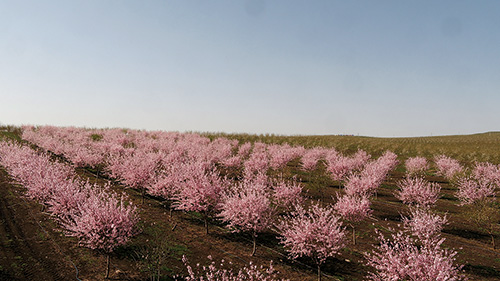 Training is taken very seriously, with the staff recruited locally being taken abroad to Europe, Turkey, America and elsewhere to exhibitions and to see farming operations. "In addition, the company has selected highly qualified specialists who periodically consult with employees in various fields. The consultation includes theoretical and practical training," says Goderdzi Metreveli. The aim is to build knowledge and experience, which benefits Georgia as a whole as well as Udabno.
Udabno has developed in many directions, researching internationally in the US and Europe and emulating the latest eco technology. Foremost are its almonds – since 2017 Udabno has developed almond orchards on 2300 hectares of land, planting over 675 000 of trees of Spanish and Italian origin, and last year it achieved a crop of 800 tonnes of unshelled nuts. To prepare for new orchards and replace trees it has a nursery where approximately 150 000 rootstocks are planted, most of the plants already grafted. There is additionally extensive horticulture, with berries, vegetables and vines, and there is also livestock – 74 buffalo, 285 cows and 1500 sheep.
This huge operation has been supported by IFIs, development grants and the Georgian government, and the benefits brought by Udabno to the local region have been considerable. "Before Udabno started business in Kakheti there was no internet and television in the local village," says Goderdzi Metreveli . "We built high voltage electrical lines. We also help schools and kindergartens with equipment and material and training for their future. In every season the company employs over 300 people who live in the region of Sagarejo."
This approach has attracted USAID to join with the Adjara Group in a new venture in Abastumani and the wider Samtskhe-Javakheti region. Announcing a joint plan to focus on such key areas as "hospitality, creative industries and agriculture" USAID/Georgia Mission Director, Peter Wiebler said aims included "developing skills, generating employment, sourcing local produce and co-investing in tourism."
Similarly, the priority right now for the team running the Imereti Agro Zone is to bring new skills and techniques to the thousands of local low-tech farmers in the region of Imereti, raising quality and productivity . But, commenting on the next stages in the IAZ's ten-year plan and the Greenhouse Cluster concept, international agriculture news website HortiDaily said last September: "Right now it is still a vast area with only some greenhouses with a maximum size of about 1500 square meters positioned here and there. In a few years, it should change beyond recognition into a large horticultural hub." The Agro zone will also incorporate a dairy farm.
HortiDaily adds: "This new development of the hub started as a private initiative. To facilitate the region better, the government took over and is currently supplying budgets to let companies take care of gas, electricity, and infrastructure. The plots are to be sold or leased for a period of 49 years to private companies, without any government participation. Currently, over 20 companies have shown interest: big international investors, German growing companies, and Russian retailers, as well as local parties." Since then, even more interest has been shown.
The long-term vision of the greenhouse cluster is to become a recognised supplier brand of premium quality produce (mainly herbs and greens) to high value markets such as the EU, says Giorgi Dadiani, executive director of the JV GeoHolding & K. Spiertz Holding Consortium, who are the consultants to the Imereti Agro Zone, and LLC IAZ who are managers of the cluster development.
Quoting IAZ development director Archil Bukia, HortiDaily adds: "There's room for a variety of growers: smaller and bigger, low- mid and high-tech, as the hub also is divided into areas to suit these types of companies. As bigger companies will want to install lighting, we'll ensure the electric grid is ready for this, whereas smaller companies might opt for tunnel greenhouses. There's room for a variety of companies." The developers are working with all the IFIs and international agencies in Georgia and are also reaching out to engage international expertise of all kinds.
The Zone is one of the largest (covering well over 200 hectares at its site), and most far reaching of Georgia's agriculture projects – as Giorgi Dadiani explains "…it is complex and its activities are related to the fulfilment of MEPA agricultural policy objectives." From this month (April) it will begin to raise its international profile to pull in expertise needed to fulfil its and MEPAs ambitions and to promote the opportunities on the sites. Information can be obtained from him via goga.dadiani@llcgeoholding.org and Archil Bukia at Archil.Bukia@iaz.ge.
Foreign investors could still play a significant role, not just in this Zone, but in the country as a whole, say sector insiders. According to Hans Gutbrod, head of the Agribusiness Committee of AmCham, this is one reason why progress with the process of granting foreign investors an exception to own agricultural land is so important. He said:"With more foreign investments, we would see more productivity, new techniques, and more exports – in this regard, the handbrake should really come off, after it has been pulled tight for several years."
This article was prepared with the support of the USAID Economic Security Program.