Adapting HR needs amid Georgia's shifting tourist landscape
Tourism in Georgia is back in a big way, according to record revenue numbers posted at the end of the summer season. But HR managers at some of the sector's biggest employers say they are struggling now more than ever to hire staff amid growing competition in the labor market and shifting trends in the tourism sector.
The Great Resignation and, more recently, an epidemic of "quiet quitting," have regularly featured in news headlines over the last two years. They describe a phenomenon in which workers have leveraged the current labor market conditions to make career changes and demand a stronger work-life balance, higher pay, or better benefits from their employers.
This movement, which was spurred on by a shift in workers' priorities during the pandemic, has seemingly been a trend reserved for the West – particularly in the U.S., where unemployment currently sits at 3.7% . In fact, Georgia's experience with Covid-19 was quite contrary to more developed economies, with levels of unemployment continuing to rise (20.6% in 2021, up from 17.6% in 2019) as layoffs swept through several industries – tourism the worst among them.
But a talk with any of the HR managers at Georgia's international branded hotel groups provides a picture more akin to that of the 'Great Resignation'. As businesses reopened, the Georgian economy continued to grow (10.3% GDP growth in the first seven months of 2022), and the summer tourism season surpassed all expectations in terms of revenue recovery; hiring needs have gone up, too.
But these managers say they are facing major recruitment challenges. The main issue they face? A lack of applicants.
Three of Georgia's internationally branded hotel groups (GMT Group [Marriott Hotels], Silk Hospitality [Radisson Hotels], and the Sheraton Grand Metechi Palace) have all reported that they expect to be back at pre-Covid occupancy and daily rates in 2023. And all three say they are ready for a full operating staff – if they could only find qualified applicants to fill the vacant positions.
Silk Hospitality HR Generalist Liza Gejadze says that for some open positions, they have received only one or two applications. Before the pandemic, she says, "It of course depends on the position, but we may have received 50 CVs for the same role." Director of Human Resources at the Sheraton Grand Tbilisi Metechi Palace Tiko Paradashvili says they are facing similar issues. "We have held job fairs, implemented a referral system – often, we have to re-post a position multiple times. Still, we just aren't receiving enough applications," she says.
Recruitment challenges
So why exactly are these hotels facing so many challenges in recruiting new staff? For one, HR managers say they are struggling to compete with the other available entry level positions on the market – particularly those that offer a higher level of flexibility or pay.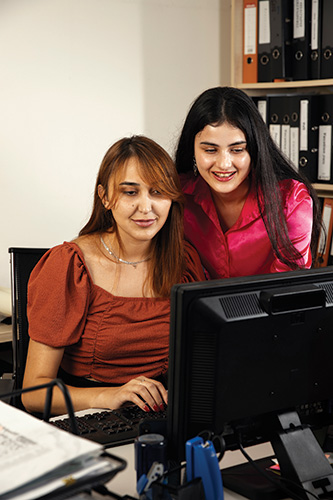 All three hotel groups report having difficulties primarily in filling operations positions, like housekeeping, food and beverage, and the front office. According to Silk Hospitality's Gejadze, this has to do, in part, with the changing trends brought on by the pandemic and the rise of work-from-home culture. "Working from home is a very new idea in Georgia. Before the pandemic, no one really studied or worked remotely. But people have gotten used to it, and now many are seeking out positions that allow them that kind of flexibility. This has affected the number of people who are willing to perform physical work and are interested in these types of jobs."
Cluster Director of Human Resources for Tbilisi Marriott, Courtyard, and Moxy Hotels Baia Rukhadze says that she also sees a change in the time horizons of those applying. "A lot of the applications we get seem to be from people who are looking for a job that can offer them the best pay right now instead of looking from the perspective of building a career. Many applicants are candid that they are applying for any job available and choosing the best paying option. This is quite a change from when I entered hospitality 20 years ago. Back then, I joined the industry because it offered stability and a chance to grow – this does not seem to be as much of a consideration for the applicants we are seeing now."
But a chance at upward progression and career development, notes Rukhadze, is one of the biggest selling points for a career in hospitality. While starting salaries may be less competitive than other entry level positions in banking or call centers, she says that hospitality offers unparalleled opportunities for advancement. "The opportunities for growth in hospitality are quite unique, particularly for Georgia," she says. "I would say that more than 90% of our high-level managers at this hotel started out working in different departments before they eventually moved to the roles they are in now."
"We, as an organization, have a strong practice of internal promotions and career development," echoes the Sheraton's Paradashvili. "Those who work in operations positions and show a willingness to progress – they are the first to be considered for administrative or managerial positions when they become available."
Despite these opportunities, stability in hospitality, she says, is becoming a harder sell. "After the pandemic, a lot of our former employees – around 80% of those let go – didn't come back. Once you lose people's trust, it is difficult to regain. So, it's been a big task trying to recruit an entirely new staff and bring the level of service back to where it was pre-pandemic."
Raising standards – and awareness
To help overcome this Herculean task, the hotel groups have teamed up with AmCham, and with the support of the USAID Economic Security Program, are implementing a hospitality skills training program to raise awareness about career opportunities in hospitality.
The program, which is part of a wider effort to introduce international standards of service to the hospitality sector and revitalize the industry's workforce as it emerges from the pandemic, offers trainees a five-month internship at one of the partner hotels. There, they will receive more than 800 hours of on-the-job instruction from internationally certified trainers, with a focus on topics like hospitality basics, housekeeping, food and beverage service, human resources, health and safety, and sales and PR.
And four months into the first cohort, the HR managers are seeing promising results. "When they started, many of the trainees expressed an interest in administrative positions. They did not understand why they needed to train for a month as a housekeeper," says Marriott's Rukhadze. "However, after rotating through various departments, they now understand what it takes to be successful in those positions, and that will make them a better hotelier in the future. Some have also expressed interest in moving to different areas in operations, which is exciting because they wouldn't have known that was an area of interest for them had they not been able to explore the various roles."
Silk Hospitality's Gejadze says the program is also helping to get the word out about the opportunities available. "Four months in, many of our trainees are now telling their family and friends about the program, and we've already had requests and inquiries about applying to be in the next cohort. This is exactly what we were hoping for – that the program would raise awareness about all the benefits of working in the hospitality sector, which in turn could raise recruitment and, down the line, the level of service we are able to provide."
Adjusting to a new tourist landscape
But a post-Covid travel boom and a lack of qualified applicants are not the only challenges these HR managers are up against. They also face a changing landscape of Georgian tourism and new source markets.
As the most recent tourism report released by TBC Capital revealed, tourism revenue in August 2022 reached a record $523 million, up 27% compared to 2019. And guests are, on average, spending more money per visit.
The number of guests hailing from non-traditional source markets has also continued to rise since 2020, with the number of visitors from the Middle East, for instance, up 47% compared to two years prior. Cluster Operations Manager for Tbilisi Marriott, Courtyard Tbilisi, and Moxy Tbilisi Nano Urushadze says she does not expect this to change. "We have certainly observed an increase in guests coming from the Middle East and Gulf States, which I think is a trend that will continue as the effects of the pandemic fade away."
In response to these shifts, one of the hospitality skill training project's objectives is to support the development of high-value tourism through the promotion of internationally recognized levels of service. Asked if they have any changing HR needs in light of this shifting tourism landscape, all three HR representatives echo a similar response.
"We as a hotel always strive to make our guests comfortable, and we are certainly adapting to the changing demographics. We can accommodate dietary changes; for instance, offering halal or vegetarian meal options," says the Sheraton's Paradashvili. "However, in terms of HR, we are in no place now to start raising the requirements for potential employees, like requiring them to speak Arabic or Russian. Right now, we are focused on the fundamentals, which means having the right attitude. We are prepared to train them in everything else – including English – but a good attitude, you can't train that."
The Marriott's Rukhadze concurs. "Every skill can be taught – except attitude. To be successful, you must have the right attitude towards service. Other than that, we are prepared to train our staff on 95% of what they need to know."
In the future, however, they all have expressed a hope that there will be higher interest in working in the sector and that as a result, more TVET schools and hospitality colleges will implement programs that prepare students more comprehensively for a career in hospitality.
"It is, at times, difficult to do all of the training in house as we are still running a hotel," says Silk Hospitality's Gejadze. Cluster Operations Manager for Tbilisi Marriott, Courtyard Tbilisi, and Moxy Tbilisi Urushadze agrees: "during the unprecedented situation of the pandemic, we had a lot of understanding from guests if service was not always at its usual standard. As we have emerged from that period, guests once again expect our service to be top notch. To maintain that level and accommodate even more high value tourists traveling to Georgia, we will need a workforce that is trained and ready to provide the highest level of service."
This article was written with the support of the USAID Economic Security Program.