Tbilisi's residential real estate market: a year in review
2022 was a tumultuous, upward-trending year for Tbilisi's residential real estate market. Marked by large-scale war-related migration that began in March, rental prices in the capital surged as demand quickly outstripped supply. But how is the market ending the year? Investor.ge recently sat down with real estate and tax firm ExpatHub.ge to get its take on 2022 and its expectations for the coming year.
Rental prices surge in 2022
Initial forecasts in early 2022 predicted a strong recovery for Tbilisi's residential real estate market. Average sales prices registered slightly above their pre-pandemic levels at the end of 2021 as forecasts from TBC Capital predicted that the second half of 2022 would see a return to prices on par with 2019 for the rental market.
But Russia's invasion of Ukraine in late February ushered in a new wave of uncertainty as it remained unclear how Georgia's economy – and the real estate market – would be impacted. The subsequent influx of war-affected migrants from Russia, Belarus, and Ukraine soon led to record levels of demand.
Head of Real Estate Services at Expathub.ge, Brian Loughnane, says that this new wave of migrants presented a significant challenge for the demand side of Tbilisi's residential real estate market. "Our firm focuses primarily on the buy-side of real estate, but we also have a significant base of clients who utilize our assistance in securing rented accommodation and office space. From this side of the market, it was certainly a challenging year."
"Rent prices shot up to unprecedented levels in March," Loughnane continues. "Some months, the YoY increase was as much as 100%. It was not uncommon to see apartments that previously went for $900 now listed for $1800."
Following what many believed was a peak in May, rental prices saw a slight decline in June and July, only to begin increasing again in August and September, albeit more gradually than in the spring.
News of Russia's military mobilization in late September, however, resulted in a second wave of migration, again raising both rental prices and uncertainty around the market. October data showed MoM growth of rental prices at nearly 25% and YoY prices up a whopping 120%.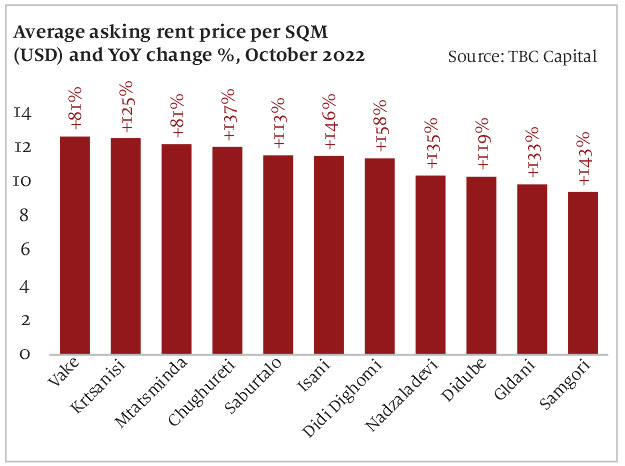 Loughnane says that these rising prices indicate that high levels of demand will continue well into 2023. "Traditionally, rental demand and prices in Tbilisi decrease coming into the winter months; this year, however, we do not foresee any decrease in demand in the short term. We expect the market to remain at its current level into the early part of 2023."
Uncertainty for the year to come
When asked about the coming year, Loughnane says that he predicts the market's performance will hinge on one major factor. "Looking into 2023, the Tbilisi real estate market faces one major source of uncertainty. That is whether the recent migration of Ukrainians, Belarusians, and Russians will be permanent or transitory."
According to him, the current data offers some hints on what is to come. "One thing we have been watching closely is the sales market. This is gives us an indication of whether those who have recently migrated may be looking to settle more permanently in Georgia."
While sales figures show that residential real estate in Tbilisi performed remarkably well in 2022, they also indicate that sales have not kept pace with the rental market, which Loughnane says is an indication that the current level of demand may be temporary.
"We have some indications that this migration may not be permanent. That is, we have seen rental prices surging at a rate that has not been matched by sales prices." Data from September, for instance, showed asking prices up 19.7% YoY, which although an impressive figure, does not match the 73.5% YoY growth of the rental market. A recent report by TBC Capital further notes that only 4% of Tbilisi residential real estate purchases between January and September were made by migrants.
Despite this indication, uncertainty around what will happen in 2023 remains. "Tbilisi's residential real estate market is highly dependent on the outcome of this war, and no one knows what is going to happen in the coming months," Loughnane notes. "Higher rental yields could push more investors into the market, or prolonged conflict could convince some migrants to leave the rental market and purchase property."
Tbilisi – still a good investment prospect?
While 2022 has been marked by instability and uncertainty around how the market will perform in 2023 remains, Loughnane says that Tbilisi still represents a good value for money proposition. "Georgia is currently experiencing an unprecedented level of infrastructure development, which together with average GDP growth of 4% per annum between 2011 and 2021, bodes well for the country's future economic success.""
"Pre-2022, investors could expect 8%-10% average rental yields for long-term letting in Tbilisi, depending on size, condition, and location of the property. For well-managed short-term lettings, yields reached up to 20%, depending on occupancy rates," he adds. "For foreign investors, this level of yields is simply unachievable in developed, western economies."
And while rental yields in 2022 are currently far exceeding those of previous years [averaging 13% as of October], Loughnane says that he is advising his clients to "manage their expectations."
"I would not count on rental prices staying at their current levels. This level of growth is not compatible with the rest of Georgia's economy. This is an obvious indication of some over-heating in the property market. However, this really does depend on if this new influx of migrants will stay in the long term or not."
Despite this uncertainty, Loughnane still recommends Tbilisi real estate as a good investment. The key here, he says, is to focus on purchasing in areas with consistent demand. "I recommend that my clients focus on more central districts, like Saburtalo, Vake, Matsminda, Vera, Sololaki, Ortachala, Avlabari, and Chugureti. We know these areas have strong consistent demand, so we are more confident of their ability to provide a good long-term return in the case that we do face a market downturn."
"Just be ready to pay more," he cautions. "Tbilisi has garnered a reputation in recent years as being a great value for money destination where housing in the central districts was incredibly affordable. While I want to emphasize that there are still great opportunities for investing here, the value for money proposition that you saw a few years ago just does not exist anymore."
Looking to buy real estate in Georgia? From basic diligence checks to comprehensive conveyancing and buy-side assistance, ExpatHub's range of services help put you at ease and safeguard your property purchase.