Made in Georgia – construction industry looks to source locally amid rising costs
Though it might not be the most glamorous, Georgia's construction industry is vibrant and reporting solid profit margins, even by international standards.
For Georgian entrepreneurs and the government, the construction sector offers a chance to hit a number of success buttons – high growth rates, strong margins, an expanding domestic market, import substitution, new export markets, and jobs.
Never one to miss a growth opportunity, Minister of Economy and Sustainable Development Levan Davitashvili is driving efforts to increase local production and capitalize on the strong performances of existing construction market players. Outlining opportunities at the high-tech end, he told journalists at a recent press conference: "The country has the potential to produce not only basic construction materials, such as cement reinforcement, but also high-tech materials including paving materials." And there are at least two major Georgian industry success stories to show what is possible: Nova and Knauf GIP.
This push is timely because of the upheaval likely to follow on the construction market as the earthquake-devastated region across the southeast of Turkey and Syria is reconstructed. As of early February, international news headlines put the damage at 160,000 collapsed or severely damaged buildings (520,000) apartments, making over four million people homeless. The numbers have since risen, with the UN saying that the "construction of 500,000 new housing units is needed to compensate." The earthquakes also flattened hospitals, schools, and administrative buildings and tore up roads. Reconstruction, currently assessed as needing at the very least $100 billion, is likely to extend over several years.
Turkey is a major building materials exporter; in Georgia's case, it supplies at least 40% of local overall constructors' requirements. But reconstruction in Turkey on the scale needed will siphon in available materials. Regional prices are expected to soar, and the impact on Georgia will be an acute need for import substitution, but export opportunities will be rife, say Georgian traders.
"We've had a meeting with businesses and asked them to present initiatives on how we can help importers to offer more locally produced than imported products to the market," the Minister told the press conference.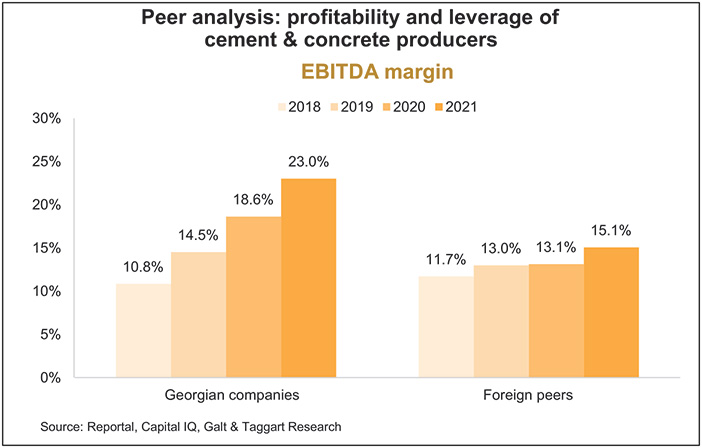 In some products, Georgia is already achieving high levels of self-sufficiency, with as much as 30% overall being produced locally. This is shown in investment bankers Galt & Taggart's report on the $4 billion Georgian "Construction Materials and Home Improvement Sector" published in late 2022, which gives numbers that show how profitable this sector is. Profit margins are considerably more than for foreign peers: for cement, the 2021 Georgian margin was 23% against 15.1% internationally; for rebars, 20.5% against 11.9%; and 18.3% on specialized renovation materials suppliers against 9.6%.
Cement, concrete, re-bars, steel and some other products are produced in Georgia due to the high costs of transportation. But Galt & Taggart say the local output share of those "has remained flat over 2017-2021, while local production of renovation materials, household appliances, furniture and lighting remains limited…"
As is the case globally, the general level of construction material prices in Georgia has climbed, reflecting the high dependence on imports, with the price index rising 29% overall by September last year compared to January 2020. Price stabilization began in the second half of 2022; however, as the lari strengthened, world commodity prices started to fall and transport costs were reduced, reflecting lower oil prices and re-opening of logistic routes.
Cementing local demand
Among the key demand drivers in Georgia for cement, concrete, asphalt and rebars is the country's spending on infrastructure. "The infrastructure pipeline remains solid", states the G&T report. "Public infrastructure investments (central and local budgets combined) are planned at 7% of GDP over 2023-26, down from 8% in the previous five years, but which is still solid by global and regional standards."
"This slowdown is mostly explained by the completion stage of the East-West Highways project, but we expect other new large programs to commence (roads, critical municipal infrastructure), which are not currently reflected in the medium-term budget framework," says the report.
Central government capital expenditure on infrastructure is expected to grow by 28% YoY to GEL 4.6 billion in 2023, according to state budget documents, with roads topping the lists.
Key product cement is mostly made in Georgia, with the percentage given by Galt & Taggart at around 95% in the first half of last year. Prices have risen, the retail price up by 2.6% YoY, but that is put down to production costs. (Clinker is the key input material, and a large amount is imported.) The largest Georgian cement producers listed in the report are Heidelberg, Georgian Cement, Georgian Building Group, Mega Holding, and German Cement.
Concrete and asphalt production has been "volatile" in recent years, the report states, being heavily dependent on infrastructure projects. Major producers of concrete are Heidelberg, Mixor, Leader Concrete, Orbi Concrete, and Georgian Concrete. Major players in the asphalt market are GRG, L&L, Elisi-2015, New Road Group, and Akhali Karkhana.
Domestic production of rebars accounted for 75% of total demand in 2021, and imports rose by 80% YoY, reflecting infrastructure and construction demand. Rebars in Georgia are produced mainly by melting scrap in electric arc furnaces, and the report states that "as Georgia is a net exporter of scrap, companies have managed to maintain relatively stable…operating costs."
On other products, local production accounts for 35% of steel products, 100% of gravel and 57% of blocks. Key steel product manufacturers are Nova and GRC.
The Minister said: "We are actively working to produce construction products in Georgia," adding that he had seen evidence of this first hand, having had contact with the local company of German gypsum producers Knauf. Established in Georgia since 2009, Knauf Gip Tbilisi has since spent $30 million and trained 1,000 workers, recently adding building insulation and design ceilings to its catalogs.
Nova
Nova is generally named as one of Georgia's star building materials performers, founded by five friends in 2006 and now employs around 800 people across its operations with bases, mega-stores in seven cities, and warehouses in Tbilisi and Batumi.
Nova does it all. It operates in manufacturing, B2B, and retail. It exports, imports, and makes a wide range of building and other products including plastic water tanks, metal roofs, plumbing systems, metal piping, plaster boards, bathroom furniture, doors, floor coverings, paint, and even garbage containers. Having won support from the EU, EBRD, and Georgian government programs and loans for its growth plans, it is now the largest manufacturer in the South Caucasus with a catalog of own-products of well over 400 items and a total of over 40,000 items in stock. Nova's list of exclusively stocked brands includes Nippon Paint, Saint-Gobain, INGCO, and Bien.
Without even taking the impact of the Turkish earthquake into account, Nova co-founder Zviad Abuladze earlier outlined an ambitious expansion plan to Forbes: "We believe that by the end of 2026, the number of our employees, our contribution to the state budget, our exports, and our turnover will be at least 50% higher than today. This will translate into 1,200 additional jobs and more than GEL 300 million in turnover," he said.
Proof of Nova's management skills and judgment is that it expanded during the pandemic: "We decided not to put the development process on hold. 2021 was quite a successful year for us. Sales increased significantly, while positive financial figures almost doubled. Furthermore, people's priorities changed during the pandemic. Demand for country homes, apartment extensions and renovations increased. We also perceived this as an opportunity.
"Since the start of the pandemic, we have created approximately 300 new jobs, increased our turnover and contribution to the state budget, created additional production lines and opened new megacenters. We did an excellent job in calculating the uptick in demand and assessing our capabilities".
Outlining factors in Nova's, success he told Forbes that hard work, trust, making the right choices, and transparency can help overcome all the obstacles that appear and even turn them into success stories. With the help of grants, Nova has also called in all the outside professional management expertise and experience it could find: "We were given grants to invite experts from the EU to Georgia to share their experience with us. We are currently focusing on human resources. Projects in the fields of manufacturing, logistics, finance, and retail sales have already been implemented and the result can be clearly seen."